Written and directed by Ian Harnarine, Doubles tells the story of a Trinidadian street vendor who must travel to Toronto and decide if he will help save his estranged father from dying. Produced this year, and filmed in both Trinidad and Canada, Doubles will have its Caribbean premier at this year's trinidad+tobago film festival at the Opening Night on September 20, 2023 at Queen's Hall.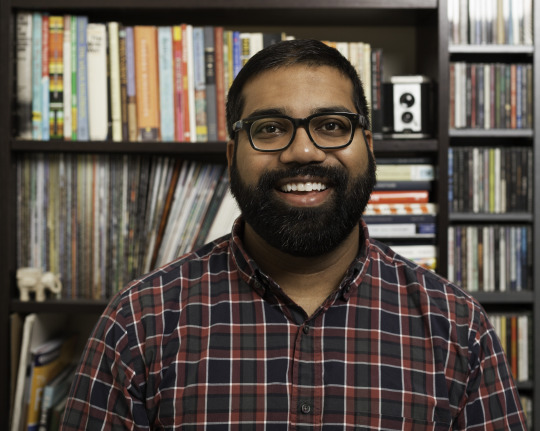 Ian Harnarine was born in Toronto, Canada and is the son of immigrants from Trinidad & Tobago. He attended York University earning a Bachelor's degree in Physics & Astronomy and a Master's degree in Nuclear Physics from the University of Illinois and an MFA from NYU's Graduate Film School. Harnarine is a member of the National Board of Review, The Television Academy and the Academy of Canadian Cinema and Television. Harnarine's film 'Doubles With Slight Pepper' (Executive Produced by Spike Lee), won the Best Short Film Award at the Toronto International Film Festival and the Canadian Academy Award.
Doubles with Slight Pepper tells the story of Dhani, a young doubles vendor who lives with his mother, Sumintra, in rural Trinidad. When Dhani's father, Ragbir, who had migrated to Canada years before and eventually abandoned his family, returns, Dhani is resentful and wants nothing to do with him. But when Ragbir reveals he is suffering from a potentially fatal illness and needs Dhani to be a donor for a blood transfusion, both father and son are forced to confront their broken past.
When it was screened at ttff/12, Doubles with Slight Pepper, was a 16-minute feature. Just before its arrival in T&T, it premiered at the Toronto International Film Festival (TIFF), the world's largest public film festival where it won the prize for Best Short Film, in 2011.
The short feature also won the prize for Best Live Action Short Film at the Genie Awards, Canada's version of the Oscars.
'Caroni', another film by Harnarine, about a West Indian domestic worker in New York, premiered at TIFF and continues to screen at festivals worldwide.
Harnarine has made dozens of films for Sesame Street, one of which garnered an Emmy nomination. 'Party Done', Harnarine's feature documentary about controversial crime reporter Ian Alleyne, played theatrically in the Caribbean.
Fast forward to ttff/23, the 18th edition of the trinidad+tobago film festival, Harnarine presents Doubles as a feature film, which will be screened on Opening Night of the TTFF, at Queen's Hall on September 20, 2023 from 6pm-11pm. Patrons will also be treated to live entertainment by Olatunji Yearwood. Tickets can be purchased in advance on Island e-Tickets.
This was the result of Harnarine's success at Pitch This! competition at TIFF in 2012 for his pitch for the feature-length version of 'Doubles'. That year he was also named one of Filmmaker magazine's 25 New Faces of Independent Film.
'Doubles', a feature film, is currently in post-production while Harnarine writes an adaptation of David Chariandy's novel 'Soucouyant'. Harnarine was selected by Filmmaker Magazine as one of the 25 New Faces of Independent Film, profiled in the New York Times and named one of Playback Magazine's Ten to Watch.
Stay In the Know – Follow Us
Visit us at ttfilmfestival.com for more information, and be sure to follow us on Instagram and Facebook.