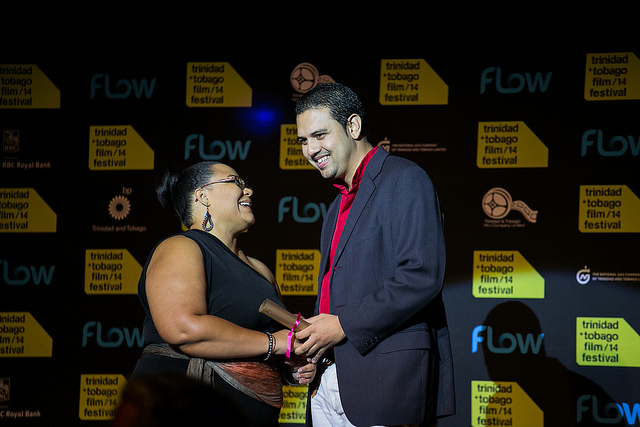 In photo: bpTT representative, Thalia Barnes, presents the 2014 Best TT Film in Development Award to filmmaker Christian James.
The trinidad+tobago film festival and bpTT have launched a search for the Best TT Film in Development. The winner will receive a cash prize of $10,000, towards the completion of the film.
Sponsored by bpTT,  the Award is for a narrative or documentary feature film in pre-production. According to Danielle Jones, Manager, Corporate Communications at BPTT: "The Award is part of BPTT's continuing investment in the cultural sector of Trinidad and Tobago, as we recognise the enormous social and economic benefits that culture can offer to our country – including helping with economic diversification. Our long history of support for the arts includes the showcasing of local films through the trinidad+tobago film festival, investment in films that speak to, or support, our rich cultural traditions such as this year's Green Days by the River and To Be a Renegade – and of course, supporting emerging filmmakers with great potential."
To be eligible, applicants must be a citizen or resident of Trinidad and Tobago, and be working on a film that is to be made in T&T. Applicants can be the director, writer or creative producer of the film, and must provide:
• A director's statement
• A completed script
• An estimated budget
• A list of key production members and their resumés
• A production timeline
Submissions should be sent to: submit@ttfilmfestival.com no later than 30 August. Shortlisted candidates will be notified within two weeks of the deadline and the winner will be announced at the ttff/17 awards ceremony on 26 September.
The trinidad+tobago film festival (ttff) celebrates films from and about the Caribbean and its diaspora, as well as from world cinema, through an annual festival and year-round screenings. In addition, the ttff seeks to facilitate the growth of Caribbean cinema by offering a wide-ranging industry programme and networking opportunities. The ttff is presented by Flow; given leading sponsorship by bpTT and the Ministry of Community Development, Culture and the Arts; supporting sponsorship by the Inter-American Development Bank and UN Women; and contributing sponsorship fromRBC Royal Bank.