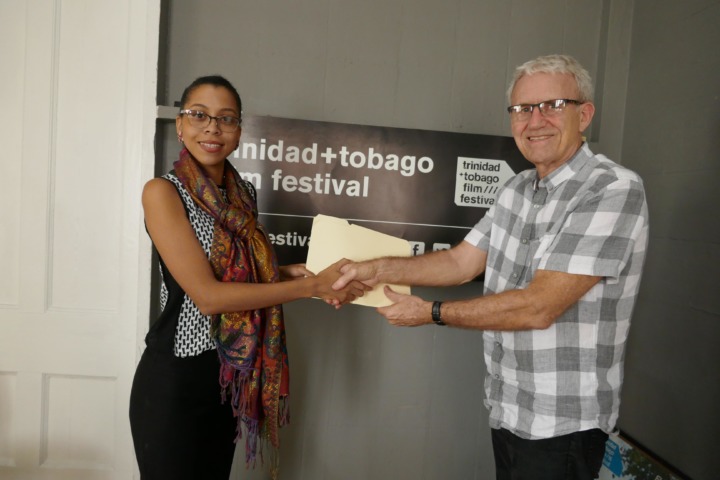 Giselle Mendez with Bruce Paddington at signing of MOU.
Volunteers form an essential part ttff's success. Every year scores of students, professionals and film fans work with us in hospitality, public relations, technical operations, and administration to make our annual festival one of the 'must attend' events in September. In turn volunteers receive hands on experience in festival and arts management from behind the scenes. Stipends, movie tickets, meals and networking opportunities with professional filmmakers also add to the experience we offer.
We're happy to announce our official partnership with The Volunteer Centre of Trinidad and Tobago (VCTT) to manage our volunteer drive for ttff/18 (18-25 September). At the recent signing of the Memorandum of Understanding (MOU) between VCTT and ttff, Founder & President – Chief Volunteer at VCTT, Giselle Mendez commented " "At VCTT we believe in the Power of Connections and for 2018 thus far we have connected 263 Volunteers to 7 Causes across Trinidad and Tobago. This partnership with the Trinidad & Tobago Film Festival provides unique and exciting opportunities for skilled Volunteers to lend their Strengths and Passions to the development of the Film Industry while expanding their own knowledge and networks.
According to Dr. Bruce Paddington, ttff's Founder and Festival Director "Over the years, volunteers moved on to become full or part time staff at the ttff. We value and look forward to working with enthusiastic people who take the time to contribute to a major cultural event annually. Many of our volunteers have gone on to pursue professional studies in film and other creative industries. For others, volunteering with us is a superb addition to their resumés."
To apply to volunteer for this year's film festival, please click here.
The trinidad+tobago film festival (ttff) celebrates films from and about the Caribbean and its diaspora, as well as from world cinema, through an annual festival and year-round screenings. In addition, the ttff seeks to facilitate the growth of Caribbean cinema by offering a wide-ranging industry programme and networking opportunities. The ttff is given leading sponsorship by BP Trinidad and Tobago, the Ministry of Community Development, Culture and the Arts; supporting sponsorship by The National Gas Company of Trinidad and Tobago and Republic Bank Limited; and contributing sponsorship by FilmTT and The National Lotteries Control Board (NLCB).