trinidad+tobago film festival is pleased to announce our industry presentations for ttff/20! Click on the links below to register now. You can view our complete Industry Programme here.
Social Media Marketing for Filmmakers, with Neala Bhagwansingh
Collectively, we are spending more and more of our time engaging with content on networks like Facebook, Twitter and Instagram. Love it or hate it, social media has become a valuable tool for independent filmmakers, with its potential for greater audience reach, feedback in real time from fans, and networking opportunities with fellow filmmakers and investors. In this ttff/20 presentation, practitioner Neala Bhagwansingh shares invaluable tools and tips for harnessing the power of Facebook, Twitter and Instagram, to drive interest and investment in you and your film projects.
Logistics
date: 10 september
duration: 1.5 hours
time: 12:00pm-1:30pm
This is a free presentation. Click here to register and to see our other Industry offerings.
About Neala Bhagwansingh
Neala Bhagwansingh has 12 years of marketing experience including social media management, and has developed and effectively managed social media campaigns for multiple businesses including the trinidad+tobago film festival and FILMCO.
---
Navigating Contracts and Clearances, with Cindy F. Daniel and Dionne McNicol-Stephenson
ttff/20 is pleased to again present an integral seminar on contracts and clearances. This two-hour session will be led by facilitators Dionne McNicol-Stephenson and Cindy F. Daniel.
McNicol-Stephenson and Daniel will guide viewers through the main types of contracts needed on a project. Product placement contracts will also be covered in this presentation, and Dionne and Cindy will employ the use of local case studies.
Logistics
date: 10 september
duration: two hours
time: 9:30am-11:30am
This is a free presentation. Click here to register and to see our other Industry offerings.
About Cindy F. Daniel and Dionne McNicol-Stephenson
Cindy F. Daniel has been involved with commercial theatre and film in Trinidad and Tobago for more than a decade as both a thespian and practising attorney. She has worked consistently in the entertainment industry as a voice talent, TV host, actor on both stage and screen, and theatre and creative content producer. After being called to the bar of Trinidad & Tobago, she worked primarily in the public service and has significant experience in policy and legislative development, contract negotiation and drafting, and intellectual property. She is attached to the Culture Division of the Trinidad and Tobago Ministry of Community Development, Culture and the Arts and has collaborated with the Intellectual Property Office to host workshops for artists.
Dionne McNicol-Stephenson has over 20 years' experience in the creative industries and 14 years experience in the area of intellectual property and entertainment law.  Her work has spanned the areas of music, theatre, film, live performance and live events – in the form of performance, administration, production, legal services and policy development. Her career path has had many twists and turns, most recently leading her to national service on the board of directors of Creative Industries Company of Trinidad and Tobago (CreativeTT) and as chairman of the Film Company of Trinidad and Tobago (FilmTT). She is a creative industries consultant and the chief connector at A Big Box of Crayons – a collective showcase of and for Trinbago's creative makers and thinkers.
---
Getting Ready for Distriribution, with Patricia Martin
Sales agents, distributors and digital outlets expect more than an HD master to release a film. In our present age, filmmakers must think about distribution from the get-go and start preparing for this stage of the process before filming even begins.
ttff/20 presents this integral talk on distribution facilitated by Patricia Martin of Habanero Film Sales in Brazil. Martin will explain why filmmakers must start budgeting and preparing their team for distribution before heading out to film.
Patricia will also discuss how film festivals have become alternative distribution platforms and also take a look at 'windowing' and what it means for hybrid distribution. Co-production agreements, territories and holdbacks will all be discussed to aid participants in their understanding.
Logistics
date: 11 september
duration: two hours
time: 9:30am-11:30am
This is a free presentation. Click here to register and to see our other Industry offerings.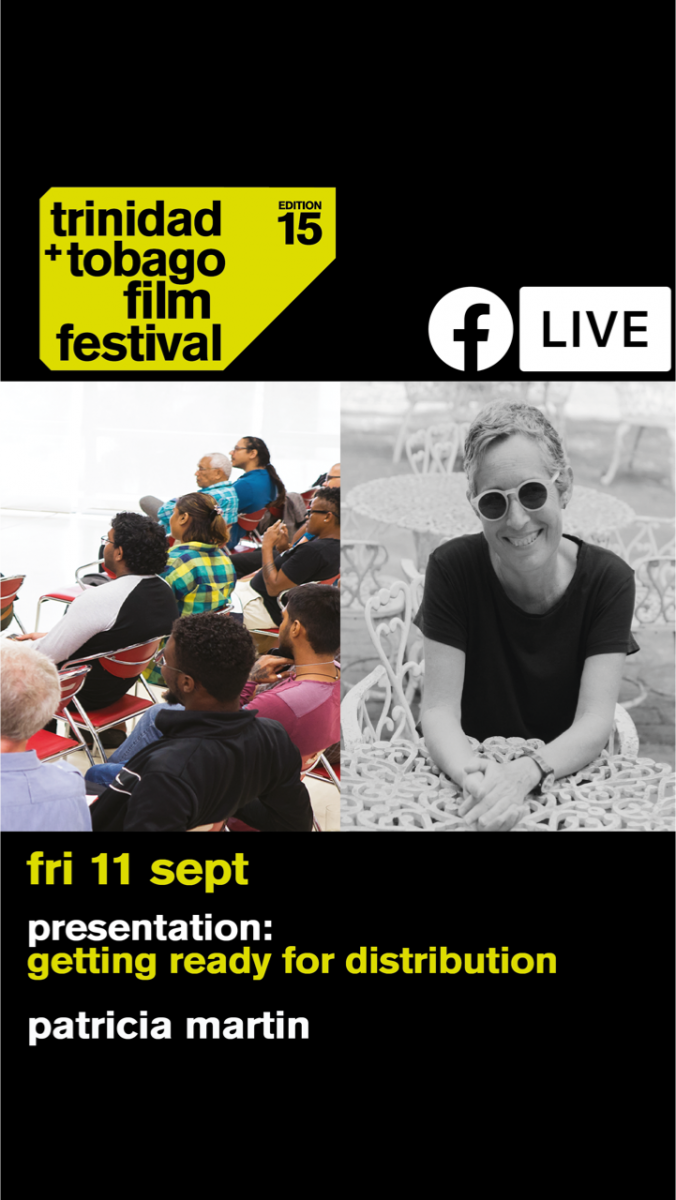 About Patricia Martin
With more than 25 years in the film business, Patricia has a particular wide-angle understanding of the industry based on her academic background and professional experience in media education, cultural entrepreneurship, film festival programming & film distribution. She is a Political Science graduate, with a persevering passion for international affairs and comparative cultures that earned her fellowships to pursue further training in Tokyo, Madrid and Washington D.C. She has served as program officer, consultant and media advocate for institutions in Venezuela, Cuba, Canada, Colombia, Mexico and Brazil. Together with her partner Alfredo Calvino, they run Habanero, a Brazilian based international sales company specialized in quality films by Latin American and Caribbean filmmakers. She is also founding director of Intermedi@rte, a non-profit art initiative focused on trans-disciplinary creative exchanges & collaborative learning. As visiting professor at Cuba's International Film School – EICTV, she has conducted an international workshop on film festivals for 10 years. Patricia can most often be found chasing her 5 dogs around her beach house in Búzios, the small town two and a half hours north of Rio she calls home.