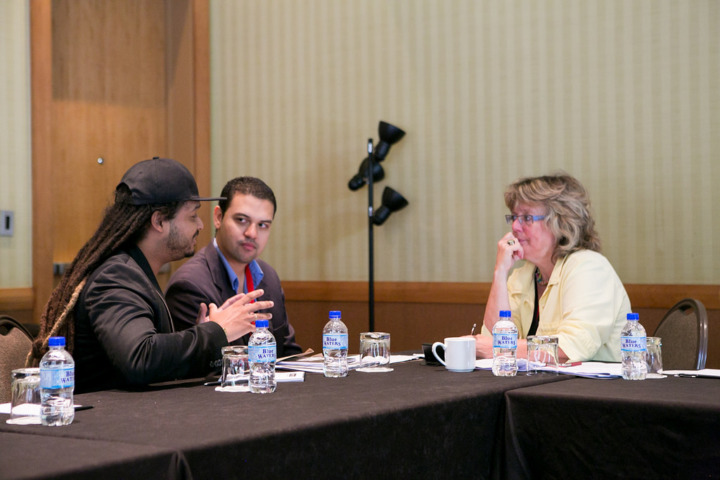 The primary goal of  tttf/18 Caribbean Film Mart (CFM) is to provide local filmmakers with professional levels of  exposure and interactions between the T+T and the international film industry. This will be achieved by setting the scene for  stimulating and creating viable cinematic co-productions; exploring new platforms and markets of distribution; and reviewing international best practices among other areas.gives twelve (12)narrative feature film and creative documentaries  in development or pre-production.T
Twelve selected filmmakers will have the opportunity to meet one-on-one with, and pitch their projects to, international film producers, sales and acquisitions agents and film funds, forging partnerships that can lead to the production and distribution of their films.
The successful candidates and their projects are:
Dance the Cocoa – Juliette McCawley
 Mas Slaughter – Christopher Din Chong
The Jaguar – Ryan Khan
Virus – Michael Rochford
Steel – Glenford Adams
Igual Paradise – Shea Best
Wishing for Wings – Kim Johnson
Silk Road – Janine – Mendes-Franco
Trinidad's Missing – Reynald Seydass
Hey Handsome – Roderick Weever
Fairway – Kafi Kareem Farrell
Right and Left – Sonja Dumas
A cash prize sponsored by BP Trinidad and Tobago for the Best Pitch will be awarded at the end of the ttff/18 CFM.
The trinidad+tobago film festival (ttff) celebrates films from and about the Caribbean and its diaspora, as well as from world cinema, through an annual festival and year-round screenings. In addition, the ttff seeks to facilitate the growth of Caribbean cinema by offering a wide-ranging industry programme and networking opportunities. The ttff is given leading sponsorship by BP Trinidad and the Ministry of Community Development, Culture and the Arts; supporting sponsorship by The National Gas Company of Trinidad and Tobago and Republic Bank Limited; and contributing sponsorship by FilmTT and The National Lotteries Control Board (NLCB)