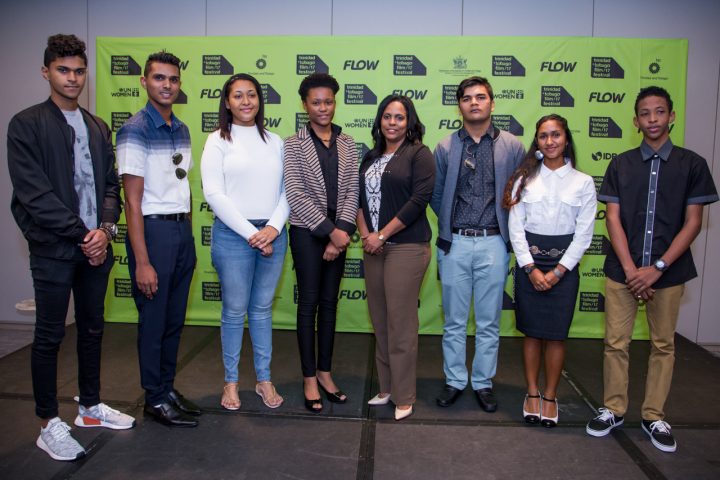 In Photo ttff/15 Youth Jury
By Shiv Shaw, ttff/16 Top Future Critic.
The trinidad and tobago film festival (ttff) announces the selection of the BPTT Youth Jury for ttff//18. The ttff is once again teaming up with leading sponsor BP Trinidad and Tobago(BPTT)  to give five young people the opportunity to develop a critical appreciation of independent film. Jurors are also encouraged to lend their voices and opinions to the festival, to work together, network and be part of the growing local film industry.
Applications were received during May to July from young people between the ages 16 to 21, who were requested to submit a 250 word essay about their favourite film and why they chose it. Of the many applications received the most endearing and expressive essays were narrowed down and these five youths were successfully chosen as the jurors:
Kirstin De Lorme, 19, student of the University of the West Indies.
Kela Sunshine Roberts, 19, student of St. Joseph Convent (San Fernando)
Deja Sandy, 19, student of Naparima Girls High School.
Sudai Tafari, 18, student of Mount Hope Secondary.
Kioni Wallace, 16, student of Bishops High School (Tobago).
The young jurors will have the enlightening opportunity to work directly with renowned journalist and film critic BC Pires, who has diligently mentored the Youth Jury panels since the programme began in 2014. Under the experience and guidance of Pires, the Youth Jury will decide a winning film and its director will be presented with a trophy at the ttff/18 awards ceremony on Tuesday 25 September.
The jurors will view and critically analyse six (6) feature-length fiction films dealing with themes and issues affecting young people. This year's films up for competition are:
Brown Girl Begins: directed by Sharon Lewis /2018/Canada
El Chata: directed by Gustavo Ramon Perales/2017/Puerto Rico
Las Hijas de Abril: directed by Michel Franco/2017/Mexico
Le Rêve Francaise: directed by Christian Faure Copie/2017/France
Looking for Zorro: directed by Wigner Duarte/2017/USA
Sprinter: directed by Storm Saulter/2018/Jamaica
The experience of being part of the Youth Jury has proven to be a life changing opportunity for past jurors, for some it has even progressed from just a love of cinema, to actively working on their own film projects or within the ttff as volunteers and/or interns.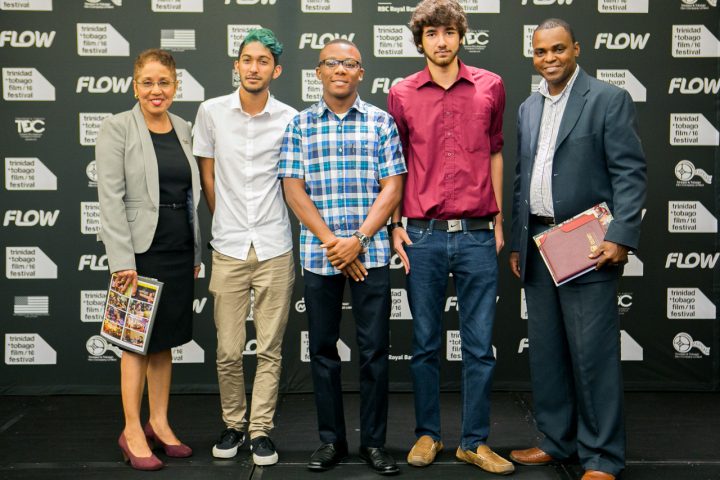 In Photo: ttff/16 Youth Jury
Christopher Lou-Hing (pictured 2nd from left) who was on the ttff/16 Youth Jury and is now a film student at University of the West Indies (UWI) expresses how working with BC Pires and the ttff helped him to advance not only his studies but also a blossoming career in the film industry. Lou-Hing says "Being on the youth jury was my first taste of film criticism. The guidance from BC (Pires) would later prove to be really helpful in my studies by sharpening my critical eye. After participating in the youth jury I felt surer of my abilities as a critic and it helped me to appreciate film as an art form. Sitting on the jury helped me realise that I wanted to pursue a career in the film industry and opened the door for my internship with ttff".
Nick Rampersad who served on the ttff/17 Youth Jury formed such deep friendships with some of his fellow jurors that they are now working on their own film project. Rampersad says "My experience serving on the trinidad + tobago film festival Youth Jury 2017 was a life defining experience and one that further cemented my love for filmmaking. The friendships forged on the youth jury and by extension the ttff are lasting. It's through this special bond, two of my fellow youth jurors and I are now in the pre-production stage of our own film". Nick is also working as an intern at this year's festival and plans to pursue a degree in filmmaking.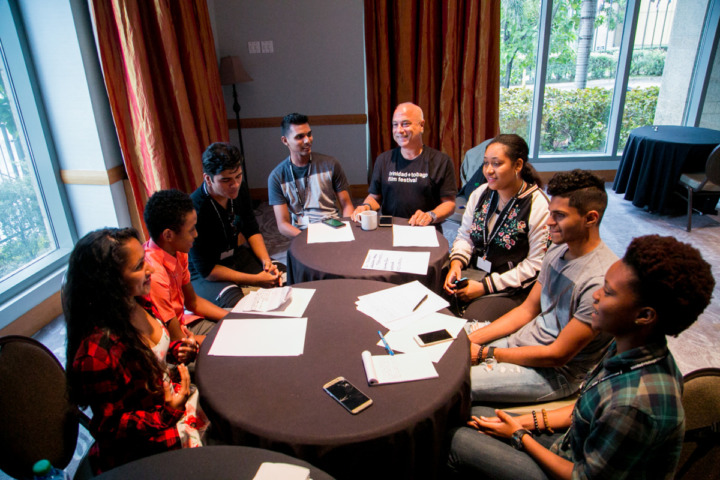 In Photo: ttff/17 Youth Jury in session
It is maybe the words of mentor BC Pires, whose dedication over the last four years, best sums up how the experience of being part of the Youth Jury has guided the jurors to build friendships, strengthen cooperation and create better futures. Speaking on last year's Youth Jury, Pires says "There are not enough superlatives to describe what a pleasure it is to be working with these young people…they rose to their task amazingly well. If our Parliament could see how they spoke to one another. They were passionate and went to their task of listening to one another with, I think, a real honesty, humility and respect for the other person's point of view. I think they might all consider a career in dispute resolution."
The trinidad+tobago film festival (ttff) celebrates films from and about the Caribbean and its diaspora, as well as from world cinema, through an annual festival and year-round screenings. In addition, the ttff seeks to facilitate the growth of Caribbean cinema by offering a wide-ranging industry programme and networking opportunities. The ttff is given leading sponsorship by BP Trinidad and Tobago, the Ministry of Community Development, Culture and the Arts; supporting sponsorship by The National Gas Company of Trinidad and Tobago and Republic Bank Limited; and contributing sponsorship by FilmTT and The National Lotteries Control Board (NLCB).