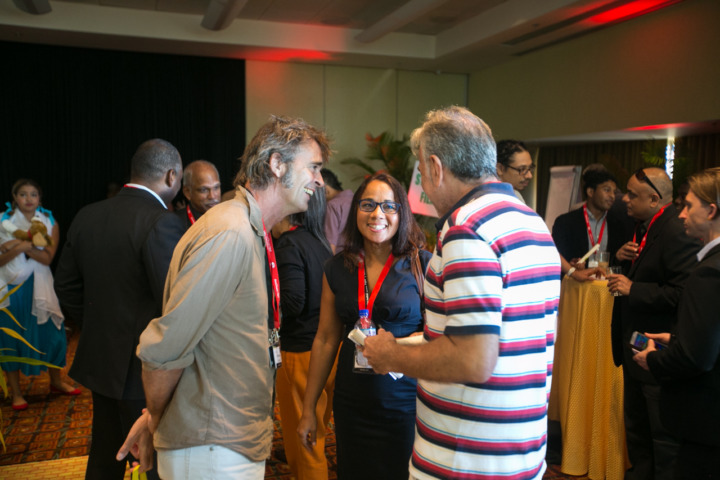 In Photo left to right: Producer Barthélémy Fougea, Producer+ Director Danielle Dieffenthaller and Producer Jean-Michel Gibert connect at ttff/15 industry event
ttff's efforts to help develop a more robust financial market for film financing in Trinidad and Tobago has, in the past included efforts to educate decision makers from some of the country's top companies about the film industry and their role as potential investors in film productions in Trinidad and Tobago.
The highly successful Think, Drink, Link event at ttff/15 was a major milestone in this effort, as it brought together twenty corporate decision makers with ten local filmmakers to learn about the overall possibilities of participating in the film industry.
In Photo: ttff's Festival Founder + Director, Bruce Paddington at ttff/15
This year ttff intends to continue this effort by hosting a two day Business Seminar sponsored by FilmTT Thursday 20 and Friday 21 September, 9.00am to 3.00pm at Hilton Hotel and Conference Centre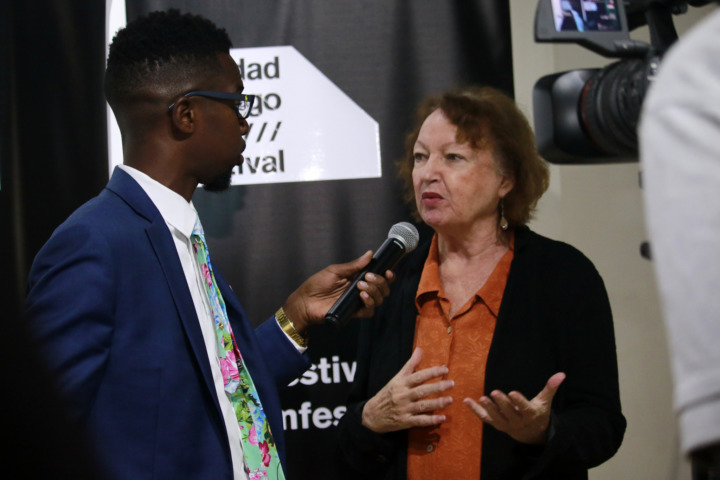 In Photo: ttff's Programme Director, Annabelle Alcazar
According to ttff's Programme Director, Annabelle Alcazar, "The 2 day seminar will enable filmmakers to become more business savvy, an essential in these times. It will cover funding, distribution, the recoupment life cycle as well as co-production.  The intention is to provide the tools for financial success in the marketplace."
Goals of the Business Seminar
Re-establish the links among corporate sector, financial sector and the filmmaking community
Provide a refresher on the value chain of screen-based media with special emphasis on film/tv content
Identify the types of financial participation that is common in the industry and the roles of corporate funders and content-creators and IP-owners
Delve deeper into the ongoing government programmes available to corporate financiers (sponsors, investors, lending agencies)
Present case studies on the successful use of the programmes
Provide step by step instructions on accessing existing programmes and the record keeping involved
Objectives
Building business development capacity of T+T's independent content creators
Provide roadmaps for corporate entities to invest in the T+T and Caribbean film industries
Identify and develop the network of potential private sector investors interested in production and marketing investment
Train producers, IP owners, and production service providers about the record keeping necessary to access government incentives
Facilitate the establishment of groups that will package content for funding.
To register for the Business Seminar, please email industry@ttfilmfestival.com
Limited spaces available.
The trinidad+tobago film festival (ttff) celebrates films from and about the Caribbean and its diaspora, as well as from world cinema, through an annual festival and year-round screenings. In addition, the ttff seeks to facilitate the growth of Caribbean cinema by offering a wide-ranging industry programme and networking opportunities. The ttff is given leading sponsorship by BP Trinidad and Tobago, the Ministry of Community Development, Culture and the Arts; supporting sponsorship by The National Gas Company of Trinidad and Tobago and Republic Bank Limited; and contributing sponsorship byFilmTT and The National Lotteries Control Board (NLCB).