We continue the second of a series of reviews of ttff/18 films by our VCTT Volunteer Feature Writer Nickisha McClean Parris. Look out for more from our other VCTT Volunteer Feature Writers in this space.
Each year since it's inception in 2006, the trinidad+tobago film festival (ttff) has been consciously highlighting human rights through films, panels and presentations. On Sunday, September 23, ttff will partner with Grundlos Kollektiv to present  Activism Day, dedicated to discussions and screenings related to LGBQTI, gender, domestic and social issues.
Participants of the 2017 Workshop
The first of these Activism Day events will be the Reel Human Rights Films Screening and Panel Discussion at 3pm. This is the culmination of a two year training programme sponsored by the High Commission for Canada. The three film projects chosen were all co-incidentally based on LGBQTIA issues. 
The Reel Human Rights Films
Workshop Participants 2017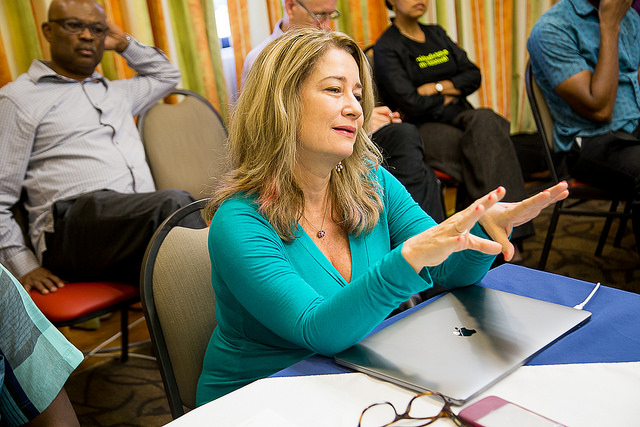 Francesca Hawkins
Judgement Day /Documentary Short/Director Francesca Hawkins
In 2017, Jason Jones, a human rights activist sued the state over colonial-era laws that criminalise sexual relations between consenting adults of the same sex. Judgement day is a short documentary that follows emotive events on the day of Justice Devindra Rampersad's landmark ruling in the legal case, Jason Jones v The Attorney General of Trinidad and Tobago. April 12, 2018, was D-Day for Jason, the LGBTQIA coalition and the supporters of these laws gather outside the Hall of Justice in Port-of-Spain to await the judgment.
Director's Bio: Francesca Hawkins works in television news and audiovisual production. She studied film at UWI St Augustine and worked on Seige, the student documentary about hostages held at TTT during 1990's attempted coup in Trinidad and Tobago, winner of the ttff/09 People's Choice Award.
Siobhan Millette
I Choose You/Narrative Short/Director Siobhan Millette
Seven-year-old Taylor is a child of divorced parents once living comfortably between their two homes. A breakdown in the dynamics of the relationship between his parents results in Taylor now being tasked with choosing the household he wants to live in permanently; a monumental responsibility for such a young child.
Director's Bio: I Choose You is Siobhan Milette's sophomore short film . Her many filmmaking attributes including Directing, Producing and Writing.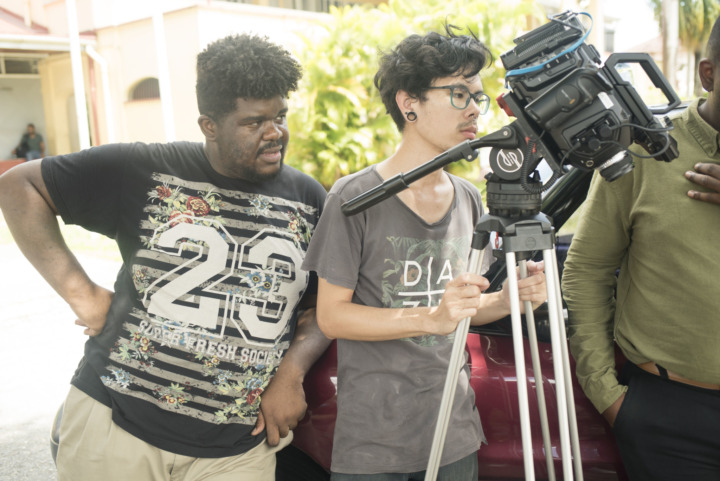 Andrei Pierre with DP Dominic Koo on set
Please See Attached /Narrative Short/Director Andrei Pierre
Young and noble Maurice is a Shoe-in to be St. Lucille's next Vice Principal, however, when the school board steps in to make changes, his alliances come into question and he's left to make some bold decisions. The film is meant to be a conversation piece; a door opening on little mentioned issues of civil injustice and basic human dignity; of what real friendship means, and the hypocrisy of the well-intentioned and also funny.
Director's Bio: Andrei Pierre graduated from the University of the West Indies in 2015 with a BA in Film Production and one in Communication Studies. He is a head writer and content developer on video campaigns for a local social media firm. Bringing drama to the screen is his life's purpose.
All three filmmakers and activists from the LQBTQ community will be present as well as the Canadian High Commissioner,Her Excellency Carla Hogan Rufelds for a panel discussion.
The trinidad+tobago film festival (ttff) celebrates films from and about the Caribbean and its diaspora, as well as from world cinema, through an annual festival and year-round screenings. In addition, the ttff seeks to facilitate the growth of Caribbean cinema by offering a wide-ranging industry programme and networking opportunities. The ttff is given leading sponsorship by BP Trinidad and Tobago, the Ministry of Community Development, Culture and the Arts; supporting sponsorship by The National Gas Company of Trinidad and Tobago and Republic Bank Limited; and contributing sponsorship byFilmTT and The National Lotteries Control Board (NLCB).