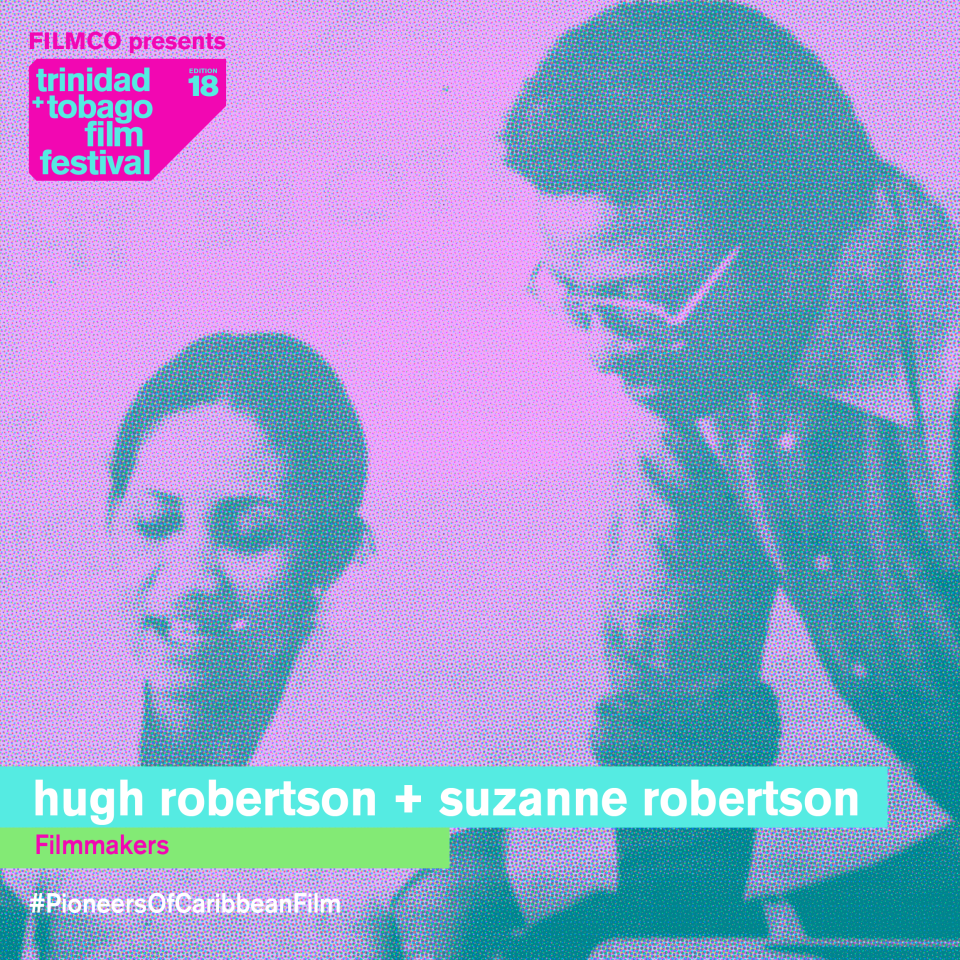 Hugh Robertson and Suzanne Robertson
Hugh Robertson came to Trinidad to film an adaptation of Derek Walcott's play Dream on Monkey Mountain for NBC and embarked on an engagement with his wife's homeland which saw the birth of what is arguably the most important film to be produced in Trinidad: Bim (1974).

American of Jamaican heritage, Robertson, together with his wife, Suzanne Robertson and a group of local directors and investors set up Sharc Productions. Sharc was an acronym for the names of his family: Suzanne, Hugh, Antonio (their son) Robertson Company.

Robertson was editor for the Hollywood films Midnight Cowboy (1969) and Shaft (1971). He also directed Melinda (1972). Robertson was nominated for an Academy Award for his editing work on Midnight Cowboy. Melinda, starring the Bahamian actor Calvin Lockhart, was extremely successful at the local box office.

Sharc brought in professional film equipment and a custom-built production vehicle for location filming. It created a sound stage at Tucker Valley in Chaguaramas and produced commercials and documentaries, but its real mission was to establish a local film industry.

Bim was set in Trinidad in the period before independence, and the politically charged film reflected the passion and conflicts of the 1940s and 50s. Written by Raoul Pantin, the film starred Ralph Maraj as Bim, in what is widely considered to be his finest performance on film.

The film's musical score was by Andre Tanker, who worked with a group of East Indian musicians. It was later released as an LP record.

Bim won a gold medal at the United States Virgin Islands Film Festival in St. Thomas in 1975, was shown at the Carifesta Film Festival in Jamaica (1976) and the Los Angeles Film festival (1976).

The producers were encouraged to make another film, Avril, based upon an original story by Hans Boos with a script by Raoul Pantin, about a spell inflicted on a young couple and the complications that ensued. While the filming was completed, the producers suffered major financial problems in having the film processed and edited. In 1987, almost ten years later, the film was finally completed and shown in San Francisco under the new title Obeah, a year before the director's death. This film has never been seen in the Caribbean.
---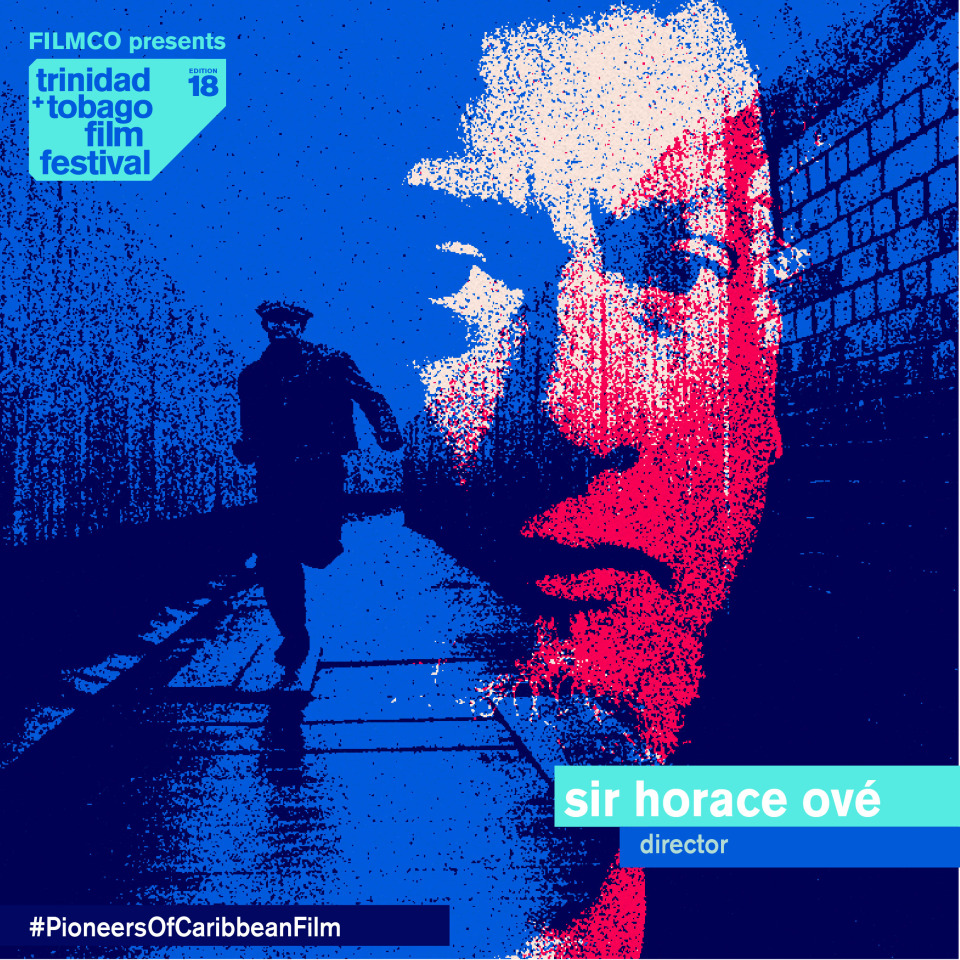 Horace Ové
Born in Trinidad, Horace Ové is internationally known as one of the leading black independent filmmakers to emerge in Britain since the post-war period. His feature film Pressure is cited in the Guinness Book of Records as the first black feature film to be made in the UK. The screenplay was written by Ové and novelist Samuel Selvon. It was funded by the British Film Institute Production Board but banned for three years because of its politically charged subject.

Ové's other early films include Baldwin's Nigger (1969) and Reggae, the first in-depth film on reggae music, narrated by the Jamaican writer and journalist, Andrew Salkey. He also made King Carnival (1973), Skateboard Kings (1978), A Hole In Babylon (1979), Who Shall We Tell? (1985), Dabbawallahs (1985) and Playing Away (1986).

He directed various episodes of the groundbreaking television series Empire Road (1978-79). Ové made his mark on the series by taking it out of the studio and onto real street locations. For the ITV network, he directed The Latchkey Children (1978-79), the first multiracial children's drama and an episode of The Professionals titled A Man Called Quinn.

In 1991 he directed The Orchid House for Britian's Channel 4. A four-part period drama set in Dominica, it tells the story of the decline of an old colonial family from the point of view of their black nanny. The cast included his daughter Indra Ové.

In 1995, he directed Native Son, shot in America and Paris, for PBS and BBC2 on the life and works of Richard Wright. Also in 1995 he directed The Equaliser for the BBC series Hidden Empire, which went on to win several Asian Academy Awards.

In 2005 he completed a documentary entitled Dream to Change the World, about the life of the late John La Rose, a Trinidad-born, black activist, publisher, writer and the founder of New Beacon Books.

Ové has won several awards over the years. He was named Best Birector for Independent Film and Television by the British Film Institute in 1986. He is the only non-Jamaican to be given a Doctor Bird award, for his contribution to Caribbean filmmaking. He was awarded the Humming Bird Medal by the Government of Trinidad and Tobago in recognition of his international achievements in television and film. He has also received awards for his work as a photographer.

Ové's most recent feature film, The Ghost of Hing King Estate, written and produced by Francis Escayg, was shot on location in Trinidad and starred Errol Sitahal, Terry-Leigh Bovell, Wendell Manwarren, Susan Hannay-Abrahams and Michael Cherrie.

In June 2007 he was made a Commander of the Order of the British Empire for his contribution to the film and television industry in the UK. He was knighted in the 2022 New Year Honours for services to media.
---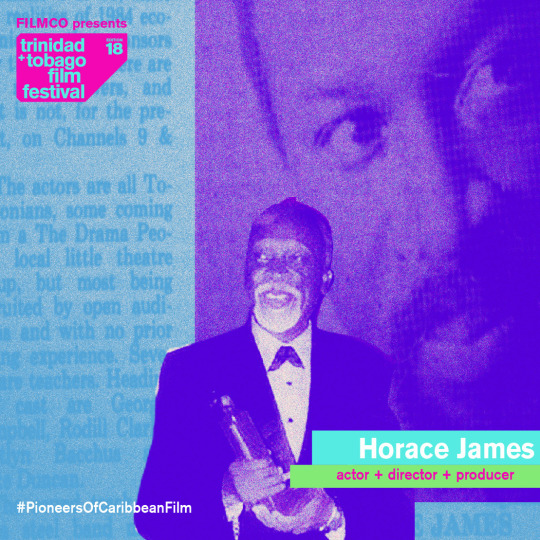 Horace James
Horace Eastlyn Emmanuel James was born on October 24th 1927 in San Fernando. He started acting when he was just seven years old and was associated with the Carnegie Players, San Fernando's oldest theatre group.

In 1952 he gathered a group together to initiate formation of what would become the San Fernando Drama Guild. Following his debut on Radio Trinidad's soap opera The Edwards Family, he accepted a scholarship to study theatre production at the Oxford Playhouse in England. A government scholarship to the Royal Academy of Dramatic Arts followed in 1961 and he stayed in England for almost thirteen years. He won small parts in several British television series, and wrote, directed and produced for others.

In 1968, an adaptation of Samuel Selvon's novel The Lonely Londoners was broadcast as a series of plays called Eldorado West One, on BBC Radio 4, with Rudolph Walker and James as key actors.

His television work included a stint on Z Cars and the TV soap opera Compact, the first soap to include a regular role for a black actor (James played magazine photographer Jeff Armandez). He also starred in the films Guns at Batasi (1964) and Love Thy Neighbour (1973)

He returned to Trinidad in 1973 and spearheaded the first drama department at Trinidad and Tobago Television (TTT), beginning a television drama career that would last nineteen years. He established the popular Play of the Month serial, selecting the plays, recruiting actors and co-opting people from other departments of the station to produce one play a month. He adapted plays from Derek Walcott, Errol Hill, Freddie Kissoon and Lennox Brown. He undertook the bulk of the work, directing, sometimes acting, lighting, producing and getting funding. He produced and directed the dramatic series No Boundaries and inspired other series like Sugar Cane Arrows.
---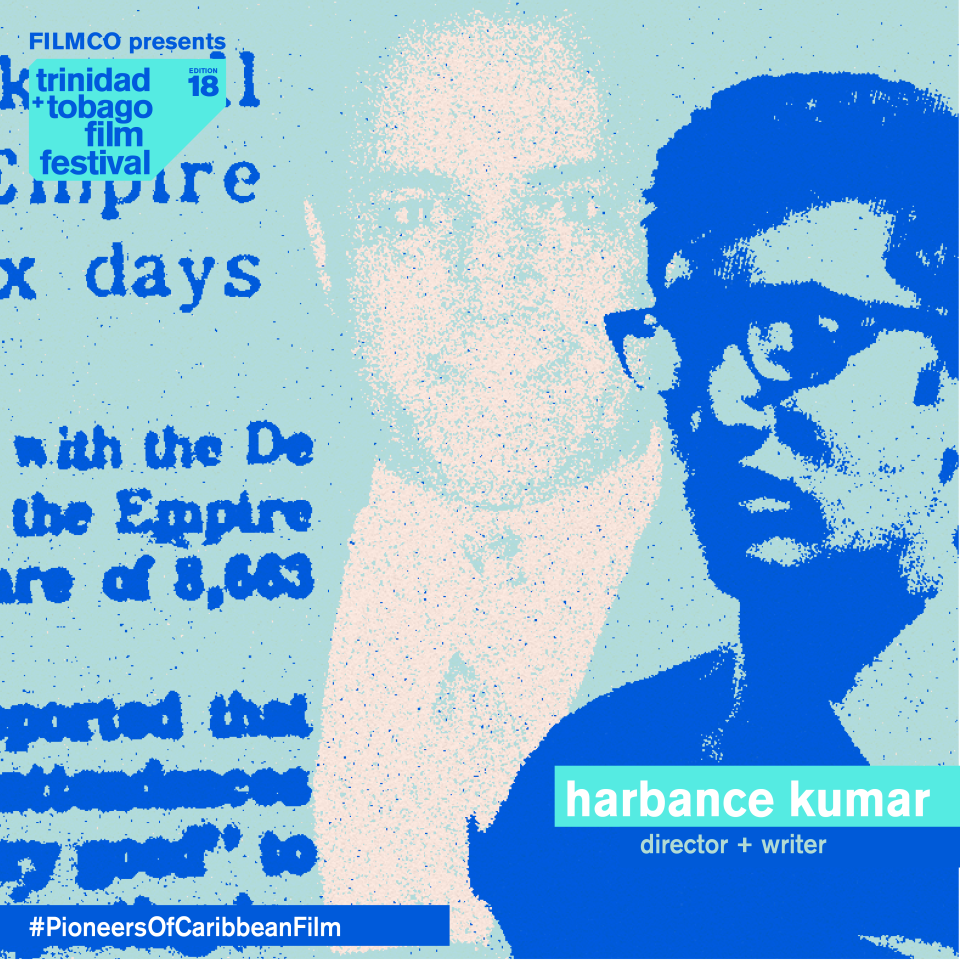 Harbance Kumar
Harbance holds the distinction of directing the first feature-length film in the English-speaking Caribbean: The Right and the Wrong and Caribbean Fox (both 1970).

Born in India in 1937, he came to the Caribbean to distribute the film Bijli Chamke Jamna Paar (1962). He eventually married a Trinidadian and began organising the subtitling of Indian films locally.

He cast two Guyanese actors, Gloria David and Marc Mathews, in leading roles in The Right and the Wrong, while the assistant director was the Guyanese filmmaker Brian Stewart-Young. Robert Hawkins, who was in charge of the Trinidad operations of Pearl and Dean from 1964-1969, was the director of photography on The Right and the Wrong and Caribbean Fox. They were produced by De Luxe Films, a distribution company that marketed Indian films in Trinidad and Guyana.

The Right and the Wrong was filmed on an agricultural estate at Five Rivers, Arouca. It was advertised as "a story of lust, passion and violence set in Trinidad at the time of slavery". The film was scripted by Freddie Kissoon and also featured local actors, such as Holly Betaudier.

This low-budget film was made for approximately US$50,000 and Carl Jacobs, writing for the local Guardian newspaper, reported that the film had "done splendidly at the Caribbean box office, actually breaking records in some places such as Grenada and Surinam". It was also very popular in Guyana. It won a gold medal for photography at the Atlanta Film Festival, but the film's major achievement was that it inspired Caribbean persons to make their own films.

Kumar wrote the script for Caribbean Fox himself. The assistant director was Anthony Maharaj. The film received a similar reception to The Right and the Wrong. It was popular commercially but criticised by local and international critics. The film was shown internationally as a double feature with the The Right and the Wrong
Kumar was not to make another film in Trinidad for a decade. In 1982 he made Man from Africa (also called Girl from India, a version for the Indian market using a different soundtrack) and Jealous, starring Michael Walker. He is also known for films Messing Around (1989), Heaven Becomes Hell (1989).
Kumar has since changed his name to Mickey Kumar, so that people in the USA could pronounce it. After meeting Mrs. Nivelli, an old Jewish lady who wanted to adopt Harbance and make him her son, he took on her last name out of respect and love, thereby becoming Mickey Nivelli. He lives in New York, working as a writer and film distributor.
---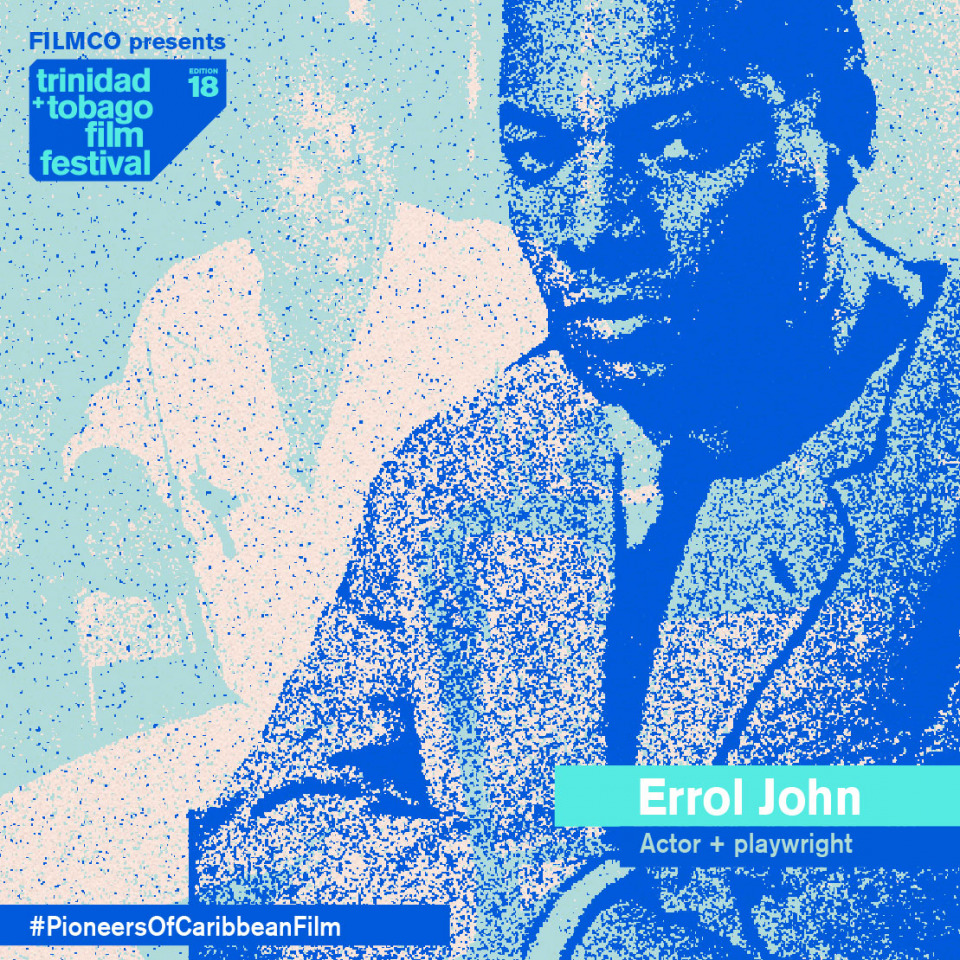 Errol John
Errol John was an artist and a talented track and field athlete who ran for the club Malvern. For a short time he worked as a lawyer's clerk; however, he soon followed his dream to act, joining the Whitehall Players theatre group.

After World War II, he travelled to England and found work in the theatre. He made numerous small appearances in television and film. In 1955, he landed the star role in the BBC's A Man from the Sun (1956), which was followed by larger roles in No Hiding Place (1961) and Rainbow City (1967), a five-part series written for him by John Elliot.

Today, John is equally known for his success as a writer. His seminal play, Moon on A Rainbow Shawl, won the Observer Play of the Year award in 1957. John developed a full-length screenplay of Moon, but it was never produced. Over the half-century since then the play has achieved iconic status as a classic of Caribbean theatre, regularly staged internationally, in countries as diverse as Iceland, Hungary and Argentina, most recently at the Cottesloe Theatre in the UK (2012).

The BBC produced and broadcast two of his plays: The Dawn (1963) and The Exiles (1968), while the ATV London Network aired his play The Insider (1969).

Despite featuring in films with Audrey Hepburn (The Nun's Story, 1959), Frank Sinatra and Harry Belafonte (Assault on a Queen, 1966) and Sidney Poitier's Buck and the Preacher (1971), he was confined to small parts in Hollywood and didn't stay on.

He died on 10 July, 1988 in Camden, North London and was posthumously awarded the Chaconia Medal (Silver) for drama that year.
---
Edric Connor & Pearl Connor
Edric Connor started singing professionally in 1936, and the following year took part in one of the first films made in Trinidad, Callaloo (1937).

Connor left Trinidad in 1944 to study engineering in England, but within weeks he appeared on the BBC radio programme Calling the West Indies. This was the first of over 2,500 sound broadcasts he made during his life. He also appeared in numerous television productions, making his first appearance for BBC television in Music Makers (1946). His first dramatic appearance on television was in All God's Chillun Got Wings.

Edric Connor made over 300 appearances on BBC TV and ITV and assisted other Caribbean artists newly arrived in England with television appearances. In the 1960s he appeared in the popular television series The Avengers and two episodes of Danger Man. His final television performance was in the drama Espionage (1994).

Connor studied film at the Heatherley School of Art and undertook professional training at the BBC. He then formed Edric Connor Films and with some assistance from the British Film Institute completed two shorts: Caribbean Honeymoon (1960) and Carnival Fantastique (1960).

Caribbean Honeymoon showcased the beauty of the Caribbean and generated pride in the immigrant West Indian community in Britain. Carnival Fantastique was filmed during the 1959 Carnival in Trinidad. The film played a significant role in introducing the carnival arts to Britain at the time when there was major racial prejudice and discontent in Britain.

He was Britain's first black film director and made short films and documentaries in England and Africa, including one for the independence of Nigeria.

Connor acted in many well-known Hollywood and British productions. His debut was in Cry, the Beloved Country (1952), directed by Zoltan Korda and featuring the young Sidney Poitier as a priest. The experience of filming in apartheid South Africa made a great impression on him and he returned to Africa several times afterward to work on features filmed on location there. He next appeared in Moby-Dick (1956), and Fire Down Below (1957), filmed on location in Trinidad and Tobago. Pearl Connor recalled that her husband "was greatly honoured… he was recognized as a real celebrity, our man come home, which was wonderful." Other films Connor starred in were Seven Thunders (1957), The Vikings (1958), Virgin Island (1960), King of Kings (1961) and Four for Texas (1963). His final two film performances were in 1968: Only When I Larf and Nobody Runs Forever.

Pearl Connor trained under Beryl McBurnie at the Little Carib Theatre in Port of Spain, then attended the Rose Bruford School of Speech and Drama in Kent.

In 1948 she met, and later married, Edric Connor. They moved to London where she enrolled at King's College to study law. She too worked in the Caribbean Service of the BBC as an actress, last appearing in Lindsay Anderson's Oh Lucky Man (1973), which screened at the Cannes Film Festival.

Pearl and Edric opened the Edric Connor Agency (1956), which Pearl later ran as the Afro-Asian-Caribbean Agency. One of their lasting achievements is their advocacy for the employment of a larger percentage of black performers in the British entertainment industry.

The agency was involved in co-producing or distributing some of the groundbreaking films in black British and Caribbean film history, especially Carnival Fantastique (1959), The Harder They Come (1972), Horace Ové's films King Carnival (1972) and Pressure (1975), and Smile Orange (1976).

Edric also attempted to establish an art-film cinema in Trinidad. He invested his own money, bought a cinema in Curepe and hired a local manager, but it really never took off.

He died in 1968, and in 1971 Pearl married Joe Mogotsi, leader of South Africa's famous vocal group, the Manhattan Brothers. She continued her work until her death in South Africa in 2005. Her honours include the Humming Bird Medal (silver) for outstanding services to the immigrant community in the United Kingdom, and the National Black Women's Achievement Award for Entertainment and Arts in Britain.
---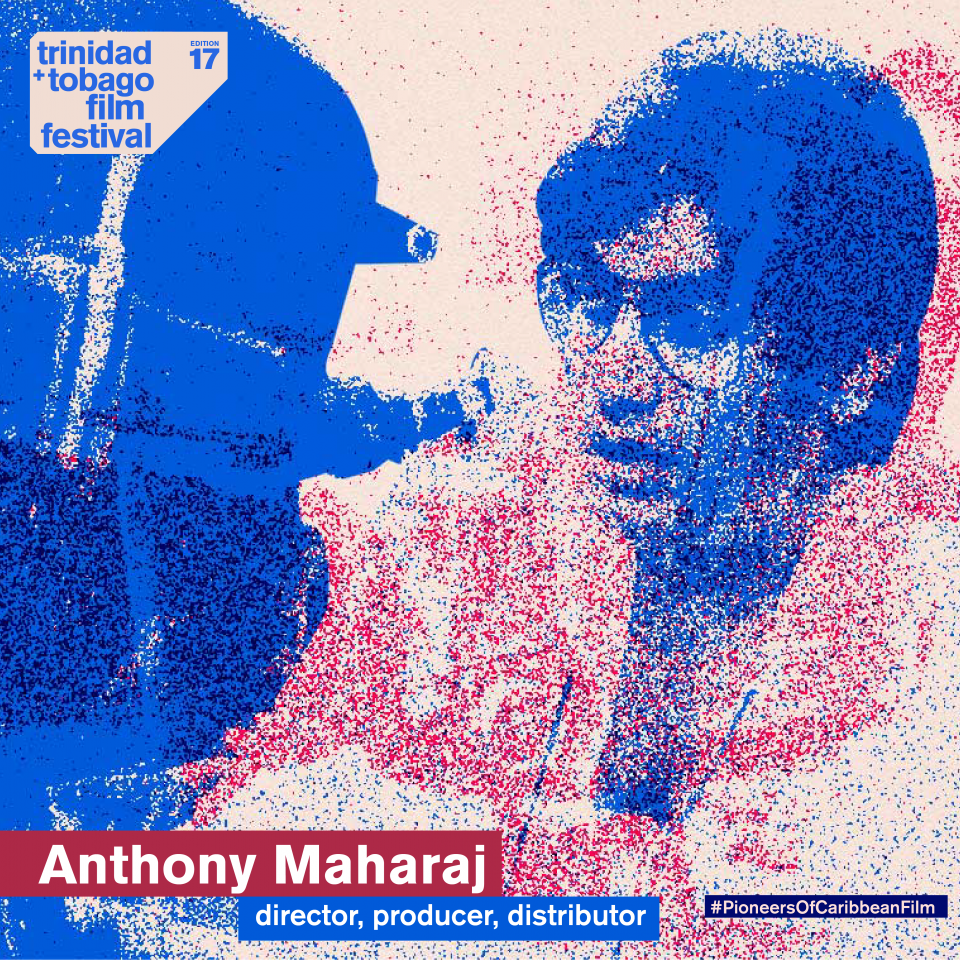 Anthony Maharaj
The prolific career of Anthony Maharaj includes international and local productions.

His parents were film distributors responsible for the distribution of Indian films throughout the Caribbean. At age fourteen he started working with them, and later worked with Paramount and MGM distribution, in Guyana and Trinidad, until he formed his own distribution company, AMA Films. AMA has distributed in the Caribbean for Samuel Goldwyn, Lorimar, Morgan Creek and Miramax films.
At age nineteen he worked with Harbance Kumar on the first full-colour feature film to be made in the English-speaking Caribbean, The Right and the Wrong (1970), and The Caribbean Fox (1970). He was also assistant producer and assistant director on Operation Makonaima (1972), directed by Ramdjan Abdoel Rahaman and filmed in Guyana, Suriname, Holland and Trinidad and Tobago.
His international career included working on feature films in Thailand, the Philippines and the USA. He established, owned and managed Cariphil Pictures, a production and distribution company based in Los Angeles and Manila.
He was executive producer, second unit director and co-writer on Final Mission (1984), directed by Cirio Santiago. Maharaj and Santiago collaborated on two more films. Maharaj was executive producer and co-producer with Santiago on Naked Vengeance (1985), directed by Santiago and based on an original story by Maharaj. He was also producer and second unit director on Future Hunters, also known as Deadly Quest and Spear of Destiny, directed by Santiago and based on Maharaj's original story.
His first film as a director was The Fighter (1987), also known as The Kick Fighter, based on his original story. Maharaj also directed Return of the Kickfighter (1987), also known as Mission Terminate. In 1988 he directed Crossfire, also known as Not Another Mistake, and Rage, also known as Deathfight, which starred Karen Moncrieff and Chuck Jeffreys.

Maharaj returned to work in Trinidad and introduced Moncrieff and Jeffreys to Trinidad, directing them in Innocent Adultery (1994) and Secrets of the Shell (2000), which he also produced.

Maharaj also played an important role in arranging the investment of the Trinidad and Tobago finance company, CL Financial Ltd, in the Merchant Ivory production Mystic Masseur (2002), filmed on location in Trinidad. Maharaj is listed as the associate producer and Lawrence Duprey, the then Chairman of CL Financial Ltd., as the executive producer on the film. Maharaj was also the executive producer of the Bollywood feature film Dulha Mil Gaya (2009), which starred Shah Rukh Khan and was partly filmed in Tobago.
---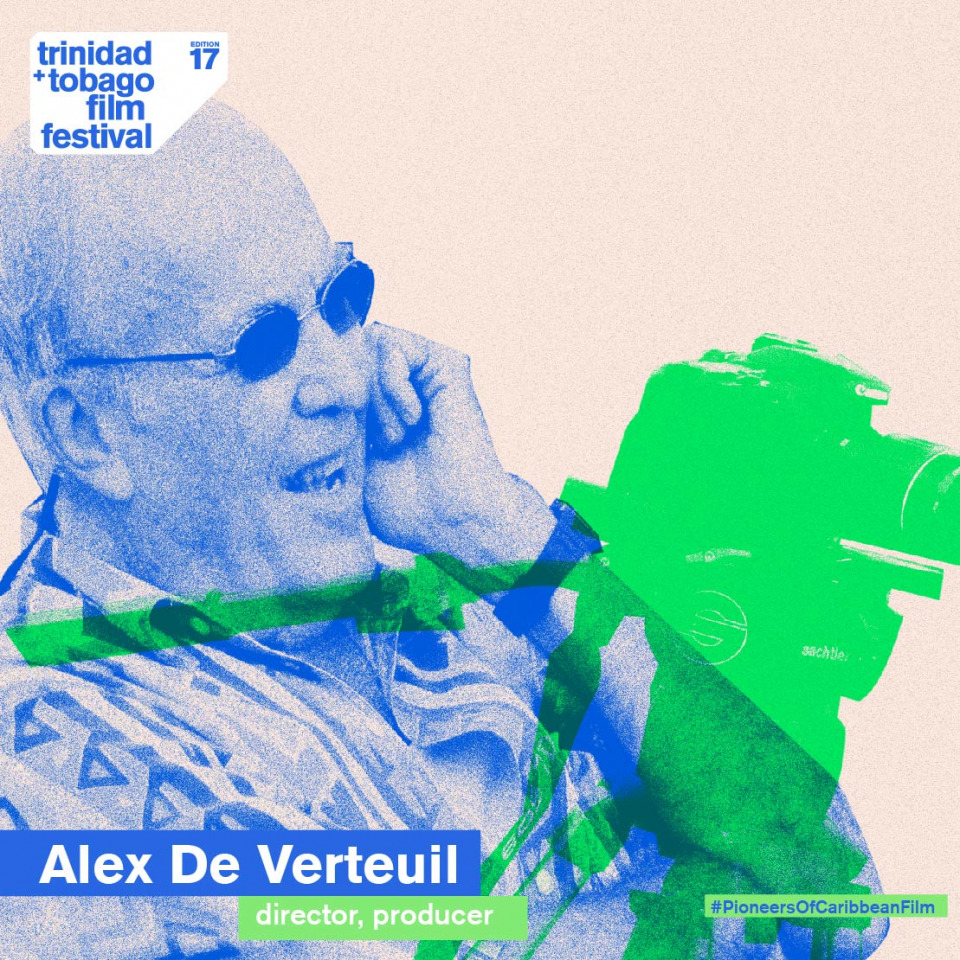 Alex de Verteuil
In 1964 the English conglomerate Pearl and Dean opened its Caribbean operations and established locally registered companies in Trinidad, Guyana, Jamaica, Barbados and the Bahamas.

Pearl and Dean's focus was the production of 35mm colour advertisements for local cinemas. In 1974 Pearl and Dean divested its Caribbean operations and David Martin—who was born in England and married to a Trinidadian—took over, making Trinidad the headquarters of operations. He died in 1974 and Alex de Verteuil took over running the company along with his sister, Elizabeth Jean Martin, David Martin's widow.

By the 1980s the cinema industry was in crisis throughout the Caribbean with the closure of cinemas caused by declining audiences. All of Pearl and Dean's Caribbean companies closed except for the Trinidad office. But the challenges they faced did not break the spirits of the company's new owners.

De Verteuil, who has always had a passion for the natural environment, history and culture, diversified operations and started to produce documentaries and commercials, although the company's main revenue earner was and still is outdoor advertising.

He produced and directed documentary videos for television broadcast on a range of local topics, largely cultural and environmental. They include several award-winning programmes that have had international distribution in the UK, South Africa, Israel and the USA.
Among the works produced by De Verteuil are:
Iere, Land of the Hummingbird (BWIA Media Award for Best Documentary)
Cry for Buccoo (Images Caraibe Award for best environmental documentary, BWIA Media Awards for Best Investigative report and best-edited documentary)
Nariva Must Not Die (Green Screen and Missoula awards)
Wild T&T (EMA Greenleaf Award)
C'est Quitte
Buried Treasure; Jab!: The Blue Devils of Paramin
70: Remembering a Revolution.