This year, the trinidad+tobago film festival is partnering with CARIFESTA to put on ttff/19 carifesta edition, which takes place 17-23 August. With the Caribbean in focus, we decided to look to the region for the 2019 festival artist, and were inspired by the work of Jamaican digital artist, Di-Andre Caprice Davis. A former ttff prize winner for Best Experimental Film, Di-Andre's work, Jellyman, forms the basis of ttff's visual identity this year, so Dabura Muhammed spent some time chatting with Di-Andre about work and artmaking.
ttff What themes are you exploring in your work? And why do these interest you?
DACD I only have ideas of how I could make use of the images I have currently. I try to do something different, out of the ordinary, I try to go out of the box all the time. I make use of apps on my phone that let you manipulate images and I mix them all together until I come up with "yeah that's how I want it to look" and that will work for now. Another time I'll switch it up in some other way. It's just the evolving process of the technology itself because you always have something new.
ttff What was your inspiration for Jelly Man?
DACD I'm always 'pon the road and try not to drink soda. I usually see a 'jelly man' when I need to, whenever I'm (p)on the road. So I just see them as someone I can depend on, especially when it's hot, and every time I see them chopping jelly I'm always watching them. Basically, I said that I want to take that and put it in my work one day. So that's how the idea came about, how I ended up doing the jelly man. It's just everyday experiences interacting with a jelly man. His visual dominance commands your attention and by adding complementing colours, it creates an energetic composition. The rhythm of chopping a jelly coconut is very GIF-like.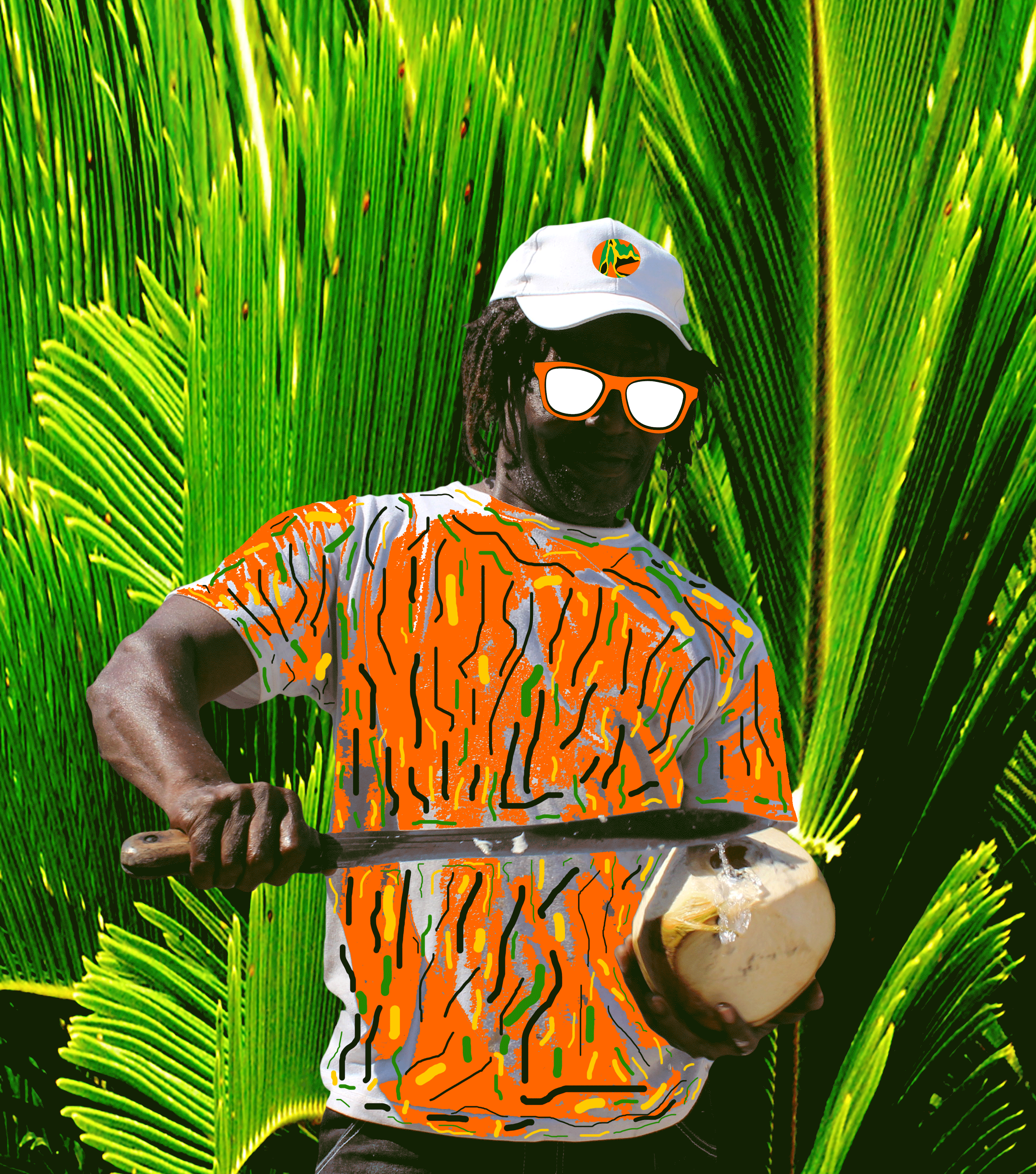 ttff Can you explain why you chose new media as your primary medium?
DACD New media is associated with the digital era, it evolves continuously. There are so many definitions and can mean different things for different people in the same context. I enjoy experimenting with new media technologies, it's like an adventure into another world exploring the outer limits. It's just my way of developing thinking, I guess it would fall under cognitive psychology because I'm always trying to learn something new so it's making use of whatever I have. I live in the Caribbean I'm always seeing trees and the sea, and all of that. I always want to see something different. It's just an interest I always had when I was growing up, trying to learn something tech-wise. Even with music because I played drums and people use software to make beats. I enjoy it a lot, it's a joy to be on my phone manipulating an image or researching generative software that can manipulate images. That's what I'm always doing– researching and reading. We use technology all the time so why not take advantage of it in a positive way, it's just taking advantage of New Media Technologies. I never planned to be an artist, I was going to be a mathematician but that didn't work out.
ttff Who/ what are your biggest influences?
DACD Overall I always have several different influences but music, some of the people I grew up with, science, and technology are some of my biggest influences. Growing up with my grandparents, my aunt was a computer genius so I was always trying to learn something related to technology. Sometimes it might be music or the ocean because I live near the sea and I'm usually on the roof looking at the water. Then I'm like 'oh that's cool' and I might make something or take a photo of the waves, so it's several different things at any time.
ttff How has your career developed since winning ttff's Best Experimental Film prize for Chaotic Beauty?
DACD It brought attention to my work overall and created additional interest from other people who are part of the artistic community across the region and abroad. Winning actually encouraged me to submit work to other film screenings and exhibitions and I had work shown at two other events. I never saw it as an experimental film though, I thought of it more as video art.
ttff How do you feel about being ttff's festival artist for 2019?
DACD I have to say I'm very grateful and excited. Thank you ttff!
ttff What are your thoughts on the importance/ impact of ttff within the region?
DACD ttff is a premiere film festival not just for the Caribbean but internationally. It has been a huge support for upcoming filmmakers and it's a great platform for promoting filmmaking within the region. Overall the Caribbean Market is booming right now and there are a lot of interesting films coming out of places like the Spanish speaking countries, also the experimental category. It's a dream of a festival, the quality of films are top-level and as somebody from the Caribbean, if you can get to show your films there it's like a dream come true. It pushes them/ us to think that just because I'm in the Caribbean doesn't mean I can't go out there in the world, the film world. If you have shown work at TTFF, trust me you're going to feel like you need to push yourself to take the next step. I know that TTFF is the sort of Festival that can do that when it comes to your work. This year for TTFF I'm looking forward to seeing good quality films. Usually there are some really great films… when I go I try to see as many as I can.
ttff What are you currently working on?
DACD Well, I'm just making things; always making things.
ttff Is there any particular impact you would like your work to have?DACD I just want to share my work and enlighten people about different ways of art-making. When people look at my work I would like them to use their brain. People see, interpret, and translate in a different way because everybody has a different brain, that's what I really want people to do. To not just see the surface art, but that there's always something more behind it, the science, the music, the patterns of sound, the different colours.
ttff What is your dream project?
DACD There are so many! Participating in an international festival of digital creativity and electronic/experimental music. My interest is in technology overall, that's why I'm doing what I'm doing.
ttff Why are festivals like CARIFESTA important?
DACD Any festival that promotes the development of cultural industries is important. It is a way to get people of the region to be in the same space interacting and embracing each other's culture. I've been to cultural festivals but never CARIFESTA, I'm looking forward to going.
You can learn more about Di-Andre's work by visiting:
https://www.instagram.com/diandrecapricedavis/
https://diandrecapricedavis.tumblr.com/