Director Elspeth Duncan of Venus & Magnet writes about animal rights film activism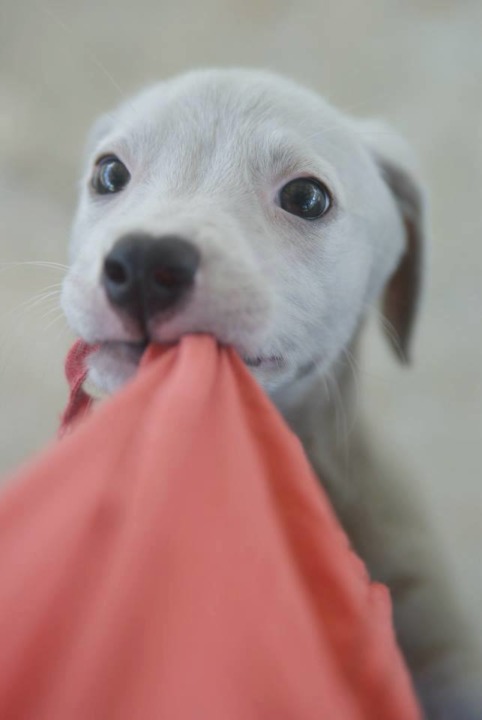 Venus as a rescue pup
Upon adopting Venus as a pup, I naturally began filming much of what she did- quite like a parent would document the stages of a child's development. This film is a true story, created from some of that archival footage. I aimed for the feel of a bedtime storybook—with page turn transitions and a simple, nursery rhyme style to bring across deeper Universal messages.
I intend to use Venus & Magnet film (and other animal-themed films and documentaries I will be creating) not only for entertainment purposes, but also for humane education- to highlight the sentient nature of animals of all species, the importance of treating them with the love, compassion and respect they deserve, and the multiple benefits of interacting closely with them.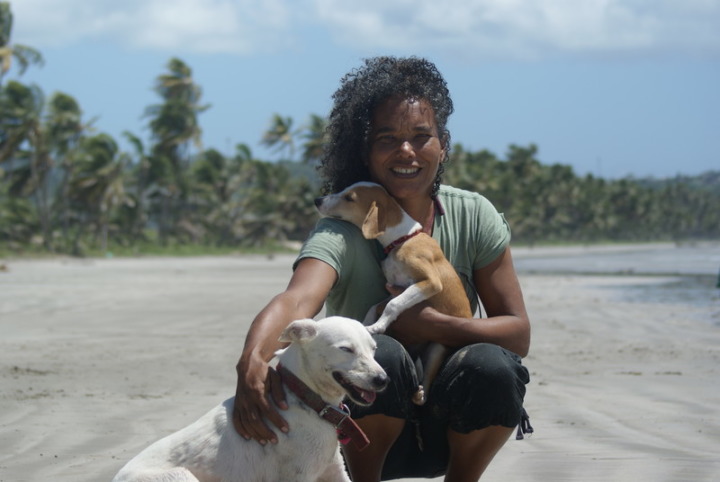 Director and animal activist, Elspeth Duncan with Venus and a friend
True change to animal welfare in Trinidad & Tobago will come, in part, through humane education in schools, starting with children-the future. Positive and powerful experiential examples of good animal welfare and wholesome relationships with other species need to be set for children on a repeated basis so that they can learn, grow, embed these practices into their consciousness and, in turn, hopefully influence the adults around them to be more caring and compassionate toward all creatures.
With the help of Dr. Janet Ferguson, Instructional Designer at Bermuda College, I have designed a simple curriculum for the Venus & Magnet film. I believe that children can learn a lot from exploring elements of this film and relate it back to their own lives and relationships.
Venus and Magnet marked the beginning of my animal rescue work in Tobago. After rescuing Magnet, various animals in need ended up coming to me-dogs, cats, laughing gulls, doves, mot mots, bats and even a pelican. Venus welcomed and helped to nurture all of them, just as she had done with Magnet. I used to post photos of Venus and the various rescued animals on my personal Facebook page and people would say: "Venus needs her own Facebook page!"

I subsequently started the Venus Doggess Of Love (VDL) Facebook page, posting daily photos, videos and written anecdotes of Venus and rescues. The page became a hub for information and stories on our rescue/rehabilitation/rehoming of stray, neglected (and sometimes wild) Tobago animals.
VDL attracts local and international followers who, via the stories and images, develop online emotional connections with the featured animals. As a result, many animals have been adopted to great homes in the USA, UK and Europe, some to Trinidad and a few in Tobago. House checks are done on all homes to ensure that the animals will be safe, cared for and, ultimately, treated as valued members of the family.
On occasion, Venus's fans make case-specific donations which help with vet treatment, spaying/neutering, food, sometimes travel related expenses for dogs adopted abroad and any other costs incurred in the relieving of rescued animals' suffering.
Venus Doggess Of Love's motto-Love Changes Lives- sums up what this rescue initiative is about. By extending love and compassion to alleviate the suffering of animals in need, not only are their lives changed, but so are ours.
Venus & Magnet is in competition for the ttff/18 TT Short Film
Images courtesy Venus Doggess Of Love