Francesca Hawkins, Director of Judgement  Day writes about LGBQTIA film activism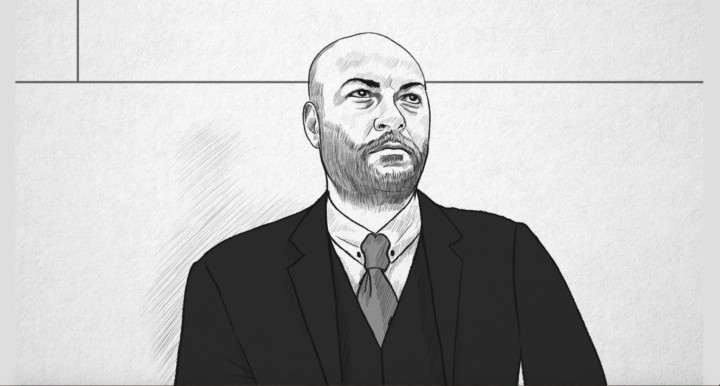 Court Artist Sketch of Jason Jones
During a ttff narrative screenwriting workshop with Annemarie Morais sponsored by
The Canadian High Commission
, the opportunity arose for the production of 3 short scripts from our group. The films would be chosen without our names attached to the proposals, to ensure neutrality in the selection process.
I had been working on a story about a young man I had met, who was innocent but spent 2 years in prison awaiting trial. Around that same time, the ruling in the case of Jason Jones vs the Attorney General of Trinidad and Tobago was coming up, challenging the constitutionality of the Sexual Offences Act. It was a tough choice as both topics explored the question of human rights in Trinidad and Tobago, the mandated subject from the Canadian High Commission.
Although I really wanted to do narrative form rather than a documentary piece, the case highlighted one of the biggest human rights issues in the Caribbean and across the Commonwealth. Ultimately, such a huge moment in legal history demanded documentation.
Jason agreed to participate and our team decided we would film events outside the Hall of Justice even if we were not chosen by the judges. We had no idea what would develop at the courthouse or where the judgment would go.  On the night before the ruling, Jason and several LGBTQIA activists received a bomb threat via text message.  Tensions were very high as so much was at stake for people on different sides of the argument.
Jason Jones
The film is about 12 minutes long and is a record of the day and the historic ruling in the case. At the court, both protestors and supporters of the laws were gathered. We wanted to tell the story of the day, capturing the moods and the people who were there. We chose mainly cinema verite style including original courtroom audio. The courtroom scenes are illustrations as cameras are obviously not allowed in court.
Our aim is to allow the audience to come to its own opinions about the society through the debates that took place between groups at the rotunda and outside the Hall of Justice. In many ways, the legal case triggered a confrontation between the past, present and future and voices on the day of the ruling tell the story of 
Judgment Day
.
Images courtesy Francesca Hawkins