We're delighted to be facilitating an InfoSession with the renowned Locarno Film Festival on their upcoming 'Open Doors' programme, a development initiative that shines a light on emerging filmmaking countries and contributes to their sustainable growth. For the next cycle of the 'Open Doors' programme, the focus will be on Latin America and the Caribbean. With 22 countries ready to be part of the section, Locarno's Sophie Bourdon notes: "20 years after the launch of Open Doors and its first focus on Cuba, we are excited to explore today's vibrant cinematographic scene of such a diverse region."

Please note, this is a closed Zoom session, so pre-registration is required.
tuesday 28 september
11.30am-12.30pm EST
via zoom
register here: https://bit.ly/ttff21industry
22 countries
The 2022-2024 cycle will focus on the LAC region, championing film projects, talents and producers from Central America (Belize, Costa Rica, El Salvador, Guatemala, Honduras, Nicaragua), the Caribbean Islands (Cuba, Dominica, Dominican Republic, Grenada, Haiti, Jamaica, Montserrat, Saint Lucia, Saint Vincent and the Grenadines) and South America (Bolivia, Ecuador, Guyana, Paraguay, Peru, Suriname, Venezuela).
365 days
Alongside Open Doors coproduction Hub, producers Lab and screenings taking place during the Locarno Film Festival in August, the initiative offers a year-long online program, with its Hotline and Consultancy services, as well as its knowledge-sharing and networking web platform ToolBox.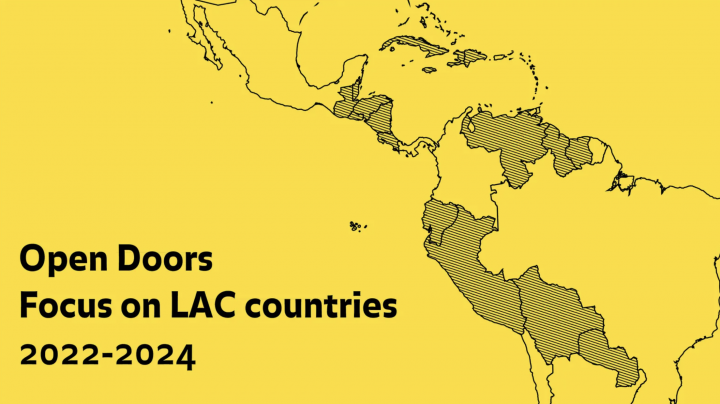 One global community
Thanks to its two successive cycles in Asia, Open Doors has developed a strongly collaborative and like-minded community of more than 1'000 talents that is now curious to connect with their peers from the LAC region. "Despite different local specificities, filmmakers from all over the world have much more in common than what they think. With the support of digital tools such as the ToolBox, they can now easily connect with each other, share experiences, and explore collaboration opportunities beyond their borders. With our community going global, we think Open Doors can bring hope to professionals for a better future despite the very challenging times they are all going through".
One Vision
The new Open Doors focus allows Locarno Pro to join forces and to fully embrace Latin America and the Caribbean. By exchanging views, discoveries and programs that will enhance international visibility and strengthen collaborations at the heart of the Locarno Film Festival, doors will be also open to more structured film industries such as Mexico, Brazil, Colombia, Argentina and Chile.
A unique initiative
Organized from the outset jointly with the Swiss Agency for Development and Cooperation (SDC) of the Federal Department of Foreign Affairs (FDFA), the Open Doors sidebar section is designed to assist and spotlight directors and their films from independent cinemas in the Global South and East. Open Doors also contributes to the diversity of the international filmmaking scene, offering space and visibility to diversified perspectives and debates. Open Doors is organized by Locarno Pro as part of the Locarno Film Festival and enjoys support from and collaborations with numerous European and international organizations.
about Locarno Film Festival
Throughout its 73-year history, the Locarno Film Festival has occupied a unique position in the landscape of the major film festivals. Every August, for eleven days the Swiss-Italian town of Locarno, right in the heart of Europe, becomes the world capital of auteur cinema. Thousands of film fans and industry professionals meet here every summer to share their thirst for new discoveries and a passion for cinema in all its diversity. In Locarno they find a quality program, rich, eclectic, surprising, and where emerging talent rubs shoulders with prestigious guests.