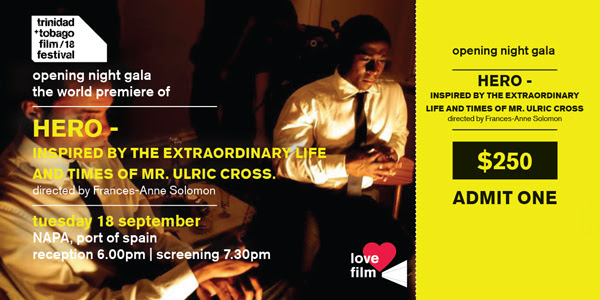 UPDATE: TICKETS  ON SALE FROM MONDAY AUGUST 27 at NAPA BOX OFFICE- 11am-6pm DAILY + AT ttff's OFFICE-9:30am – 1:30PM MONDAY to FRIDAY
HERO:Inspired by The Extraordinary Life & Times of Mr. Ulric Cross will officially open the 13th edition of  trinidad+tobago film festival . The screening will be part of ttff/18's  opening ceremony and gala on Tuesday 18 September at the National Academy for the Performing Arts (NAPA), Port of Spain.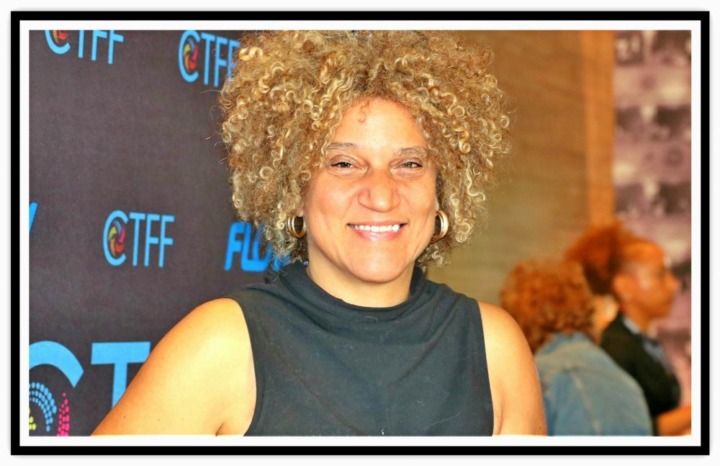 Photo: Director-Producer Frances-Anne Solomon
Hero, directed by Frances-Anne Solomon was inspired by the life and times of Trinidadian Ulric Cross Cross whose distinguished international career as a soldier, jurist and diplomat spanned key events of the 20th Century when independent African and Caribbean nations came of age. Out of this, a new brand of Black leadership was born and post-colonial societies emerged to find their place today on the world's stage.
The film expertly uses archival material and dramatic reconstruction to recite a tale of opposition and triumph in this important historic chapter in Ulric Cross' extraordinary life. It focuses on Cross' contribution to the Pan African movement and his relationships with Tanzania's first president Julius Nyerere and Kwame Nkrumah, Ghana's first prime minister and president.
Republic Bank Limited is the Title Sponsor of Hero , which was produced by Trinidad and Tobago nationals and filmed in Ghana, United Kingdom and Trinidad and Tobago.  Nikolai Salcedo conveys a mesmerizing characterizationof Ulric Cross. The cast also includes acclaimed British actor Joseph Marcell as CLR James, noted Trinidadian actor Rudolph Walker and a number of leading Ghanaian actors.
Photo: Hero Team
Director Frances-Anne Solomon, who also produced the film, notes that "Hero explores not just the life, but also the dynamic and transformative times that Ulric Cross was born into. Ultimately, the film is about us, who we are as Caribbean people."
Photo: Executive Producer, Lisa Wickham
Lisa Wickham Executive Producer of Hero reiterates, "This film has international and diplomatic significance for Trinidad and Tobago and its relationships with Africa and the United Kingdom as it signifies the role that it has played and continues to play in international affairs."
Hero is one of three T+T feature length films starring at this year's festival. Dr. Bruce Paddington, Festival Founder and Director of the trinidad+tobago film festival expressed his delight in the selection of a T+T film opening the festival for a third consecutive year, "We are once again proud to screen a film from Trinidad and Tobago as our opening film and especially pleased that the film is about a true hero, Ulric Cross, at a time when a country needs heroes and role models."
ttff/18  will also feature a stellar programme of award-winning Caribbean and Panorama films plus an unprecedented number of shorts, which will be announced shortly. According to Annabelle Alcazar, Programming Director, " We are showing over 60 T+T new shorts and it is exciting to see that, despite funding challenges, the quality and range of subjects increases every year."
The World Premiere of Hero at NAPA, Port of Spain, will be preceded by a Cocktail Reception, sponsored by BP Trinidad and Tobago on Tuesday 18 September, at 6.00pm.The director, producers  and members of the cast and crew will be present. Further information on ticket sales and availability will be announced soon.
The trinidad+tobago film festival (ttff) celebrates films from and about the Caribbean and its diaspora, as well as from world cinema, through an annual festival and year-round screenings. In addition, the ttff seeks to facilitate the growth of Caribbean cinema by offering a wide-ranging industry programme and networking opportunities. The ttff is given leading sponsorship by BP Trinidad and Tobago, the Ministry of Community Development, Culture and the Arts; supporting sponsorship by The National Gas Company of Trinidad and Tobago and Republic Bank Limited; and contributing sponsorship by FilmTT and The National Lotteries Control Board (NLCB).
Photos courtesy Hero Film: https://www.facebook.com/HERO4ALLTIME/