Beat the curfew blues, or just grab a chance to watch some of the best films from the Caribbean with tiff's weekly online streaming series, curfew cinema! Watch a new film every week! Enjoy anytime between 4.00pm Fridays and 11.59pm Saturdays (AST), via ttfilmfestival.com/watch
Click the button below to purchase your tickets. Or, email info@filmco.org to arrange a bank transfer. Don't forget, ONE TICKET = ONE MOVIE! Tickets cost TT$35 (US$5) and are payable via credit card or online bank transfer. Movies will be streamed on the tt film festival website. (While most of our films are available for streaming WORLDWIDE, we suggest you double-check just to be sure that the film you want to watch is available in your area!)
schedule
how to watch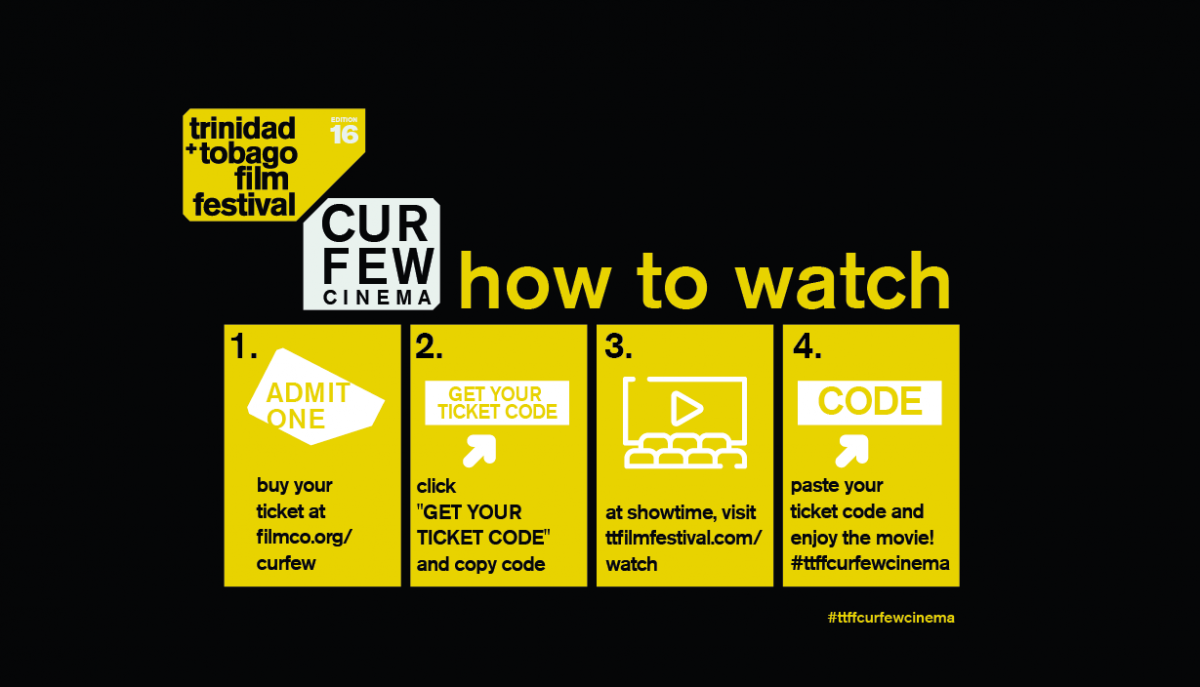 about the films
Pendulum
When Luther, the CEO of a major software company, realises he has a stalker intent on doing him harm, he calls in Ryan, an old friend and former soldier. Ryan, who is battling with post-traumatic stress disorder, tracks down the stalker and is forced to kill him, but in so doing, makes a shocking discovery.

Poetry is an Island
Derek Walcott, Literature Nobel Laureate travelled the world while remaining closely connected to his beloved island St. Lucia. As a poet, playwright, painter and even filmmaker, Derek Walcott hymned the Caribbean for over 60 years. This documentary presents an intimate portrait of him, set in his beloved native island St. Lucia. The place he always longed for, when he was taken to far away places by his universally acclaimed work. What moved and inspired this great poet? Who are the people whose lives became poetry through his writings? And how did they experience the gift of language of their friend, their mentor, and their father? This film explores the poetry of Derek Walcott, the landscapes and people that inspired it. It observes Walcott in places essential to his work and life, and gathers the thoughts of some of his closest childhood friends. Most importantly, this documentary is a celebration of the greatest gift Walcott has given the world: his poetry.
Hinkson
Trinidadian Donald 'Jackie' Hinkson, in his 70th year and on the occasion of a massive retrospective in four exhibition spaces talks about his life's work and demonstrates his techniques in expressing his intention while creating a watercolor from the blank page to completion and work on a number of sculptures, public murals and drawings. His obvious skill expressed with candor and humility imbue this uniquely structured film with charm and ease while stunning the viewer with an unusual insight into the creative process of one of the country'e greatest living artists.
The Solitary Alchemist
What happens when talent isn't enough? When, in spite of a life of work, you look around in the autumn of your life and discover that your world is not what you thought it would be. This is where we meet Trinidadian jeweller, Barbie Jardine.
Trained at England's prestigious Royal College of Art, Jardine moved back to her native Trinidad in 1974 where she developed new techniques in working with traditional and indigenous materials, and evolved a personal narrative style for making wearable works of art. But 30 years on from returning to the Caribbean, and in spite of having her work purchased by a major metropolitan museum, there are nagging questions she just can't shake: Why isn't my work more recognised? Have I made a crucial mistake? She is resentful and angry. And she wants something more. An opportunity to create a new piece for an exhibition in Scotland presents itself and Barbie is both nervous and hopeful. Will this be the chance to finally carve out her own space in the world?
La Gaita
This film is the story of two very different brothers. Willy's the difficult one consumed by his own impatience and Tito is the tireless believer and visionary.
Despite their differences, Willy and Tito agreed on one thing: that their quest in life is to use their music to help the down-and-outers, the lonely and the broken to accept themselves during what some consider to be the loneliest and most vulnerable time of the year… Christmas.