We're proud to introduce the first of a series of reviews of ttff/18 films by our VCTT Volunteer Feature Writer Xavier Barzey. Look out for more from Xavier and our other VCTT Volunteer Feature Writers in this space.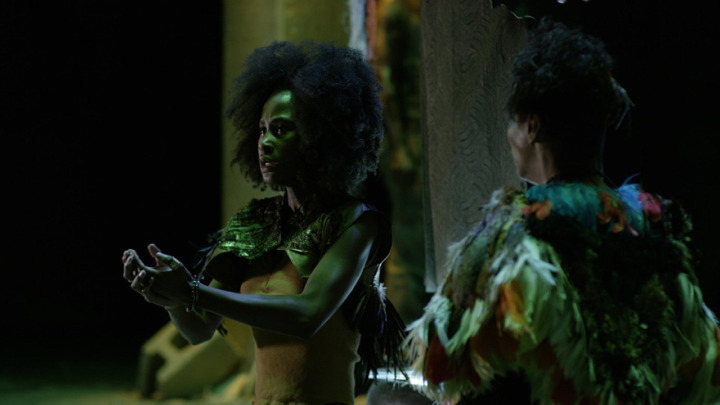 Canadian film director, Sharon Lewis does not disappoint as she mixes vivid imagery with an eclectic sense of dark symbolism and Caribbean culture portrayed seamlessly within the gestures, mannerisms and accent of the characters. In this post-apocalyptic tale set in the year 2049, the story follows Ti-Jeanne a young priestess and titular heroine who has the daunting task of saving the lives of the innocent, while trying to keep afloat of her own future. Ti-Jeanne, with the support of her grandmother Mami must become the woman she is destined to be by offering herself to Papa Legba (the destroyer) in an effort to save her people. It is a relentless battle as Ti-Jeanne must also come to terms with her mother's death, having perished at the hands of Papa Legba himself. The land barren, food limited and water scarce, it is up to Ti-Jeanne to change the fate of the future.
Brown Girl Begins journey's through a dystopian society that depicts compelling elements of the abuse of power and the boundless limits to where it can be utilized for one's benefits. The film's characters are not only the epitome of strength, but the destitute environment around them invokes a message of the struggle for survival. A struggle that is all too real for the film's characters considering the fact that they are not living, only existing and surviving to live. Ti-Jeanne and her friends are compelled to fight against the forces of the evil Crack in order to be emancipated from the heartless bowels of the environment in which they live. Ti-Jeanne's reluctance to become Papa Legba's vessel only seems to add more anger and pain amongst them as she is traumatized by the death of her mother. Ti- Jeanne has seen a lot, experienced a lot and yet remains pure in heart and soul to those around her, that's the essence of her character.
Lewis exhibited the disparate lines of survival and courage as it falls within the social construct of a hapless environment at the mercy of a powerful authority. The film is built upon themes of gender roles, spirituality and status. Through the resistance, comes deviance against all odds in a struggle to gain a voice and take back their freedom. Brown Girl Begins has pushed the bounds to where women are taking matters into their very own hands. The latter have seldom been seen as unusual because these phenomenal women are living their lives without approval from society and standing firm in their convictions. As the film progresses, we see the confidence grow within the protagonist and with it, she conquers every hurdle that's standing in her path.
This film is the perfect blend of Afrofuturist culture and all the complexities that go along with it. It keeps you completely immerse in its action sequences and riveting narrative. Brown Girl Begins would be showing at various outlets at Movietowne Port of Spain, Movietowne San Fernando and Movietowne Tobago. It is worth the watch so don't miss it. Screening time for this film would be featured on Saturday 22nd September at 6:00 pm, Screen 8 at Movietowne Port of Spain with a casual discussion after the film. It continues on Tuesday 25th September at 6:30 pm at Movietowne Tobago and on Tuesday 25th September at 8:30 pm at Movietowne Port of Spain, Screen 7.
The trinidad+tobago film festival (ttff) celebrates films from and about the Caribbean and its diaspora, as well as from world cinema, through an annual festival and year-round screenings. In addition, the ttff seeks to facilitate the growth of Caribbean cinema by offering a wide-ranging industry programme and networking opportunities. The ttff is given leading sponsorship by BP Trinidad and Tobago, the Ministry of Community Development, Culture and the Arts; supporting sponsorship by The National Gas Company of Trinidad and Tobago and Republic Bank Limited; and contributing sponsorship byFilmTT and The National Lotteries Control Board (NLCB).