VCTT Volunteer Feature Writer Xavier Barzay met up with tfff/18 festival artist and educator Sabrina Charran to discuss her work and collaboration with ttff.
Xavier: I met up with Sabrina Charran at Rituals Café, nestled at a cozy corner on Sweet Briar Road, on a rainy day like no other. Sabrina embodies confidence, as her unapologetic stance for her work and strong passion is deeply engraved within her impressive pieces. She is the featured artist at this year's trinidad+ tobago film festival, with a selected piece from her 2015 collection entitled 'LoveHate.' As we settled with our beverages in hand, we casually spoke about Sabrina's life experiences as an artist, the Heart Therapy Project and working with ttff.
Xavier: So tell me a little bit about yourself as an artist?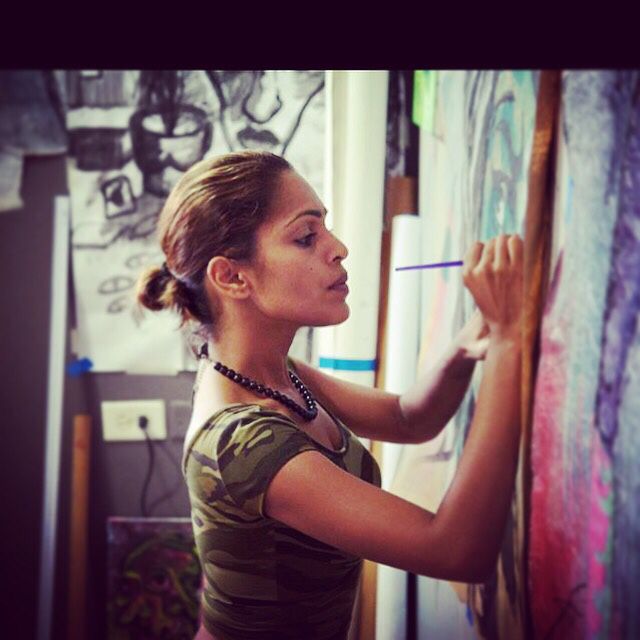 Sabrina: I always knew that I wanted to be an artist since primary school. I've always been interested in art without knowing how much courage it would take to be an artist. I was never exposed to the fear of being an artist. As I got older, you hear more and more people asking you, "Are you sure that's where you want to go?" They would try to challenge you or try to divert your interest onto other things. I went to Bishops and it opened my mind more to art because I was surrounded by people who were also interested in having careers as artists as well. My art teacher used to exhibit and she taught as well which was inspiring. At the end of form five, we would have our show at the museum. So that confirmed to me, that this was the direction I wanted to take. Later on, I graduated from UWI with first class honours in Visual Arts. I then took my passions further by going into teaching because I knew that I can't have the life I want to have just by making art. I did a lot of freelance work as a graphic artist, I did commissions and portraits. I decided to do something in education where I can gain new skills all while doing what I love.
Xavier: Can you elaborate on your art process?
Sabrina: Art making for me is not relaxing. It's work that stresses me out, but it's something I enjoy. A lot of the times when I'm not psychically engaged in making a picture, I am thinking about things and I'm allowing my subconscious to store things. In primary school and high school, I loved stories growing up. I was always a storyteller and I loved painting so I thought I can try to mix the two. In my process now, I combined all the interests like the narrative, the graphic edge as seen in my stencil work and of course nothing could compare to working with paint. The paint does its own thing. I work with Photoshop and Illustrator. I like to do digital sketching which is less time consuming. I also work both ways with technology and freehand. I make notes in the middle of the night. Sometimes the ideas that come, can turn out to be solutions for the problems that I was having in a painting. In the end, it's well worth it. It's satisfying to think about the feeling of looking at all the pieces up in a gallery that is all connected to one story. When I'm working I think holistically, I don't just see one picture, I see pictures as chapters in my story.
Xavier: Could you name an artist that inspires you?
Sabrina: It changes, it really changes since I was in high school the inspiration sources would usually change. I remembered loving Boscoe Holder's work and the classic names in art in the Caribbean. Then, my interest became hybrid. I began to have an interest in anyone who worked with the human form, whether it was in the Caribbean or just in classical training like European style. I also, really love graphic design as well and it is seen in some of the images that drive some of the work that I do like the piece that is shown at the trinidad+tobago Film Festival (ttff). I'm inspired by the works of Roy Lichtenstein, Rene` Magritte and pieces from Andy Warhol. I really love the classic graphic styles. I also like things with a sharp stencil, simple colours, three colours, four colours. I'm thinking in print, but I'm actually painting. Furthermore, I think about the versatility when I'm making art, one that I can easily take and put up on the streets in stencil form if I wanted to. To print it would be cheap, affordable and easy to reproduce. To me, the ideas behind the work stems from my real life experience. Work that tells a story and narrative is inspiring to me like Frida Kahlo's work as well. The influencers is vast, it all depends on what I am making at the time.
Xavier: Can you describe your experience working with the trinidad+tobago film festival?
Sabrina: It stems from the theme 'love film.' They really wanted to go back to the visual arts. For the past few years they've been using artists who worked with photography and they wanted an actual painter. So they decided to contact me because of an exhibition I did in 2015. I made those pieces based on traumatic events. So the work is sort of a catharsis and the piece for ttff was actually chosen from that collection called 'LoveHate' at Medulla Art Gallery, so that's really where the connection was.
Xavier: What is the story behind your chosen art piece for the trinidad+tobago film festival?
Sabrina: So all the works from 'LoveHate' are linked to a personal story. The stories weren't nice. That whole exhibition came out of hurt. I was in a really bad place at that time. I took these stories which was replaying in my mind and that feeling of not being heard to produce these pieces. So I vented through art because art became my best friend.
Xavier: Would you tell me a little bit about the Heart Therapy Project?
Sabrina: At St. Jude's, they actually saw the work that I did through my portfolio. They saw the work that I did as an educator. This would mark my tenth year, working at Queen's Royal College teaching Arts and Design. They also looked at some of the voluntary work that I did outside of educating in QRC. I worked with St. Jude's in 2015 which was the same year of my exhibition. They called me to do art therapy sessions with them. I decided to use and share some of my processes with the girls and then do some classes. I spent a week there, doing work with them and I called it Heart Therapy. Melvina (Hazard, ttff's community development director) saw some of the work that I did with the girls and she connected with it and wanted to feature that as part of the trinidad+ tobago film festival. I know that ttff is very much into community based projects so they decided to adopt the St. Jude's Heart Therapy Project as one of their community based projects.
Xavier: What inspired you to take on this project?
Sabrina: Well to be quite frank, I know what it feels like to have a lot to say and to not have an outlet. Well, I don't know what that's like because I have an outlet. However, I know what it feels like to have nobody on your side. It's that feeling of being alone with a million people around you and you just don't care anymore. The St. Jude's project, I was able to work with the girls which was refreshing too because I work with boys on a daily basis. It was refreshing to work with girls because girls are totally different when it comes to dealing with problems and acting out when they are not heard. We're always trying to keep up with our own emotions far less for dealing with other issues that nobody wants to hear us out for. I felt grounded in a way to have the responsibility to teach 13 girls. You can see there's something that they wanted to say and you want to help them get it out on paper. So I connected with that.
Portraits, The Girls of St. Jude's (2018)
Xavier: Why did you decide to focus on self awareness as the theme for the projects?
Sabrina: To me, self-awareness is so many different things. I know that the psychologists have their own meaning. To me to be self aware, is to have an outer body experience and to look at yourself objectively in a situation. I realized that a lot of the girls I worked with, made decisions irrationally. I wanted them to learn to slow down and that is one of the beautiful things about working with painting or in the arts. It's about being conscious of your surroundings, your materials and your audience. You know I realized that even with myself, I was very reactive and the girls reminded me of a reactive part of myself. I felt like if I can make them express that through the work, then they would become more aware of how they react. So, this was all part of my intention to make them aware of how they behave and their thought processes in getting things done and following instructions like drawing a line from point A to Point B.
Xavier: What do you hope to achieve working with the girls at St Jude's?
Sabrina: If there is one thing I learnt from my show in 2015, is that you need to make the trauma materialize. The memory is still there, but it's outside. A lot of the energy I felt with those girls was a distinct heaviness, a weight, that was not making them move forward. There was an additional heaviness with self pity as well. I felt like that's where the self awareness and confidence that I hope for them to achieve comes in. It's always good for the girls to search and I think that's what the visual and performing arts allows these girls to do. They can find an outlet so that they can actually feel a sense of belonging and know that they can do something and feel like they are a part of something bigger than what they are currently experiencing. It's a bit of a release.
Xavier: What was one of your favourite pieces that the girls did for the Heart Therapy Project?
Portraits, The Girls of St. Jude's(2015)
Sabrina: The session was made up of portraits with hearts and portraits defined by an eye. I made them do self portraits instead of drawing what they think they looked like and decided for them to use an eye. The girls were allowed to include anything they wanted in the picture, mainly something they love, something they hated and something from their immediate environment. I really liked all of their eye pieces because I recently looked at a video on YouTube. The words of a life coach stood out to me. He stated that a lot of the noise that we experience as humans, we think that it's the noise that we hear but most of the noise that we consume are actually through what we see. He made a reference to hearing the news that a man had died and seeing a man dying are two completely different experiences. Looking back at those eye pieces that the girls made was actually the noise, that they were experiencing. The emotion was definitely there. It depicted an expression of the noise that they faced.
Eyes, The Girls of St. Jude's (2015)
Xavier: What advice would you give to an aspiring artist?
Sabrina: Well, for me, I think the important thing is to have something to share, an opinion and knowing that those opinions are going to be made in the form of something visual. You're not going to say it, unless you want to do performing arts, but if you want to be an artist, you have to have the courage to stand up for your opinions and really believe in what you stand for. That's how I work. I like to have opinions and I like my work to do the talking.
The Heart Therapy Art Exhibition opens at 7pm at The LOFTT Gallery and runs until 30 September. Art produced by The Girls of St. Judes will be on sale and all proceeds will go towards the programme. Thirteen limited edition hoodies and thirteen  T-shirts featuring Sabrina's work that inspired our festival art will be on sale at the Gallery during the exhibition. Sabina's work will also be part of the exhibition.