Shiv Sawh-Student, Ken Gordon School of Journalism and Communication Studies
To paraphrase the movie critic BC Pires, "great movies have the power to disturb which is not all together a bad thing". 'The Cutlass' the feature film directed by Darisha Beresford will inflict several wounds upon any of its viewers, the scars of which are not rooted in fantasy, but reality.
The power of film is that it can be a mirror that shows our society's reflection in its entire splendor but on the flipside it also reveals our horrors. This film is a harrowing tale based on a true story of a young woman who is abducted by a lone kidnapper and held against her will in the forests of Trinidad.
There are beautiful aerials shot of the various green tones of the Trinidadian rain forests that contrasts against the dark story that unfolds before our eyes. It is a huge credit to the film's script writers that the antagonist, Al played brilliantly by the actor Arnold "Pinny" Goindhan is not at all one dimensional. Al reveals his complex background of sibling rivalry with his brother and also his past sexual frustrations when he had lost the interest of his first love, Kiki.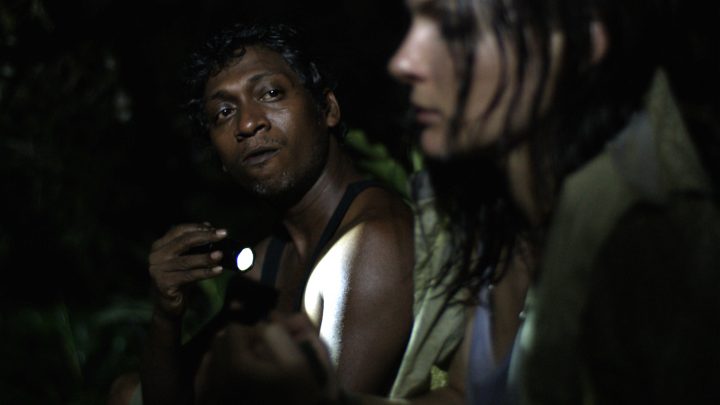 His captive, Joanna, played by Lisa Hirschmann, narrates certain scenes that give insights into the mind of a person who has to succumb to a man she abhors yet depends upon for her survival. The director revealed at the Q&A session after the screening that Hirschmann walked through the forest barefooted and many of the scars that are seen about her body in the film are real. This level of commitment from an actor is partly what makes it possible for an under-resourced film to shine as 'The Cutlass' has.
The film's dialogue between Al and Joanna exposes clashes of classism and racism that exists in Trinidad and Tobago's past and present day. There are scenes that will leave the viewer feeling truly unsettled; one in particular had the audience in attendance at the University of the West Indies' (UWI) Film Building gripped in uneasy, skin-crawling silence.
At its heart 'The Cutlass' is a film about survival, courage and the strength to move on. It asks of its audience not to judge a book by its cover but to read deeply into its subtext. Three of the most popular films released in the last five years of the Trinidad and Tobago Film Festival dealt with real problems that face our nation. 'God Loves the Fighter' (2013) dealt with gang culture in east Port of Spain, 'Trafficked' (2015) looked into dark world of the drug trade. 'The Cutlass' joins this group with its terrifying insights into kidnapping, which leaves this critic with the notion that our films are showing us a reflection in the mirror that we must bravely confront. Looking away from it may just destroy us in the long run.