Jamila Annisette- Student, Ken Gordon School of Journalism and Communication Studies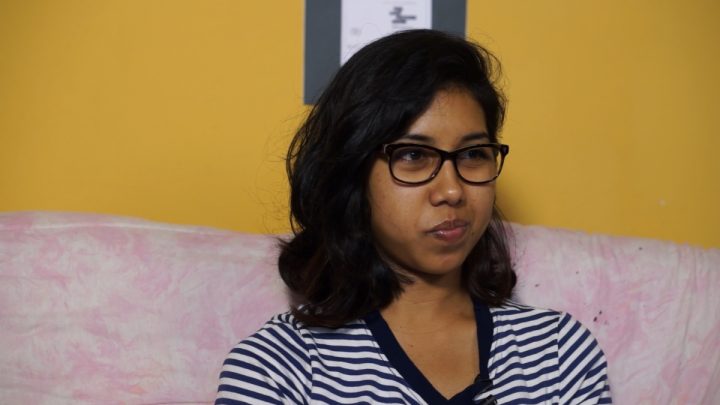 "I'm twenty one, so you can't tell me what to do anymore!!!" This may sound like the rant of an angry adolescent who thinks he is a full-fledged adult or perhaps it could be a declaration of an individual who has suffered from 'the absentee' father syndrome. 'The Absentee', directed by Trinidad and Tobago's Kyle Sahadeo is a short film that explores how three University students, Quadir, Stefan and Tami, are impacted by the experience of growing up without the presence of their respective biological fathers. The film, which took on the style of a documentary, was inspired by the director's realization that his family type (nuclear family) is actually part of the minority in T&T, and if it's not an actual statistical minority, the nuclear family is certainly an institution in decline.
'The Absentee' explores what has become, in the last few decades, a far more common upbringing in Trinidad – single parent households, blended families, extended families or what some people unkindly and mistakenly call "broken homes". Given the nature of family life in T&T "The Absentee" should be the film with the most views.
This film has the potential to force its audience to hold back tears. Twenty one year old Quadir recalls moments in his childhood where his father would take "every good situation and make it bad." A fishing trip to Toco turned into a spontaneous bar hopping excursion that would later lead them both to the Sangre Grande General Hospital. Or even when Stefan gave his testimony of his first encounter with physical violence with his father and how incidents like these caused him to struggle socially. It was honest, authentic and very watchable. The central themes of abandonment, and triumph over adversity, do not become preachy or overbearing but are handled by the director with a light touch. I think the director was fortunate to find such an excellent trio to participate in this film. The delivery of their stories, though unscripted was very compelling, easy to follow, and creatively conveyed.
I am no expert on things film-related but I can recognise when something is uncomfortable to watch. In my opinion, visually, the film was easy to look at and can hold anyone's attention. The film was made with clean shots, balanced audio, good framing and proper lighting. Single parenting and the effects of a fatherless home is a clichéd subject matter but when explored through this art form it allows the matter to be interpreted with "new eyes" by the audience. Also, this film is likely to be enjoyed by a Trinidadian audience because of its references to places and expressions – you can't help but feel in a way that you are somehow related to the persons in the documentary.
'The Absentee' is a good watch. The effects of the absentee biological father in a child's life is often overlooked because it is so common in our society, but this film was a strong reminder of how important that role is for the function of a family and for the affected child.