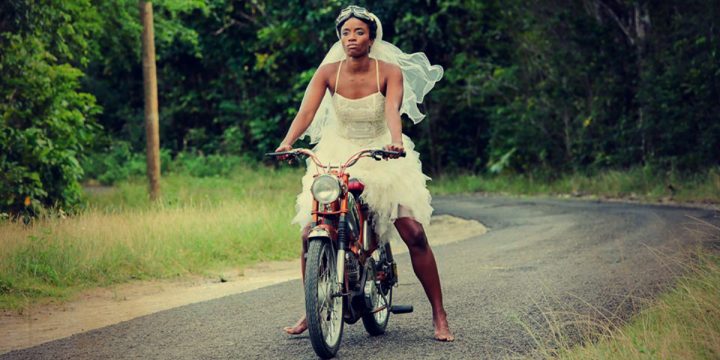 Shiv Sawh-Student, Ken Gordon School of Journalism and Communication Studies
Caribbeanism and Surrealism are the two ideas that came to mind as I sat through a viewing of the beautiful short film 'Nightmare before the Wedding', directed by the Guadeloupian based writer Fabienne Orain Chomaud. Dreams are universal and this short film is inspired by the dream of all dreams, that being Lewis Carroll's 1865 novel Alice in Wonderland.
We see the beautiful Lili wake in sweat-dripping horror on the day of her wedding, she climbs on to a red moped and treks her way through the lush, yet looming, banana and cane fields of Grand-Terre, Guadeloupe.
Then we are treated to the logic of dreams. The many churches she frantically arrives at are all shut and empty, as her desperation mounts the cinematographer opens up before us the breathtaking beauty of Guadeloupe's old churches. Lili cycles through a series of unforgettable characters in a sequence that has her meet up with a red caped dancer, a mystic of the sea clad in white dress, a dreadlocked talking caterpillar and she even has several encounters with the white rabbit, all variations on the motifs of Carroll's iconic Alice in Wonderland.
One scene that absolutely blew my mind was Lili's discovery of a miniature version of her own house with a tiny moped parked at the side. Lifting the roof she sees her fiancé cloaked in a horsehead arguing with her, very 'David Lynch-esque' with shades of his 2001 film Mulholland Drive.
Also that marvellous scene of Lili dancing dreamily in the deep waters is beautiful to behold, masterfully choreographed and captures the stillness of a dream-like state of mind. The narrator's voice is very deep and engaging, it transported my mind deep into my soul hearing the French language spoken in such rich Caribbean tones.
This is a film that I am almost certain the master of surrealism such as Salvador Dali, Manray and of course Luis Buñuel would be proud of, I highly recommend you see it.