Serijo Du Four-Student, Ken Gordon School of Journalism and Communication Studies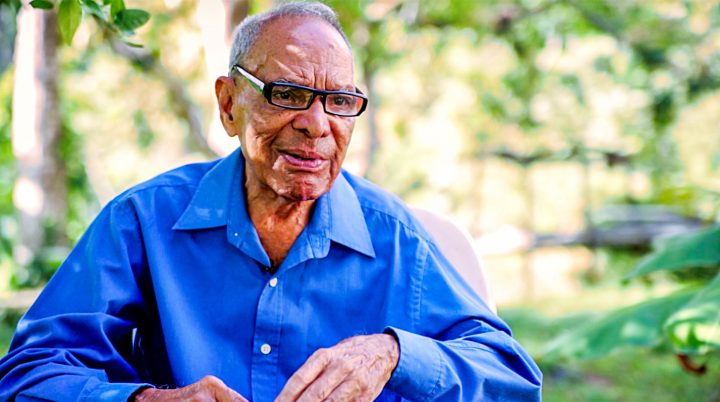 Caratal pays tribute to longstanding comedian/story teller Ramdeen Ramjattan also known as John Agitation. It's a unique personality profile which goes back into the life and times of the 89 year old.The film was directed by a man young enough to be Ramjattan's grandson – 24 year old University of the West Indies student, Kyle Mitchell. However, take nothing away from Mitchell; he captured the true essence of the comedian by reflecting and honouring his work which encompasses several decades of experience.
If you didn't know where 'Caratal' was, well, it was clarified in this movie as the place where Ramjattan developed the skills which eventually made him the living legend he is today. It's a rural area which forms part of the Cumuto district. Agitation often jokes that the he spent his entire life in that place and to date it has not changed. It's perhaps not as funny reading it, but it's also perhaps more reason for you to go check out the film. The Director made it seem as though without Caratal there would be no John Agitation. It prompts you to think about the old saying "it takes a village to raise a child" and in that sense the movie gets full points for attempting to connect the audience to its icons. The film goes even further by asking the question: what happens when a village no longer acts like a place of togetherness? The 89 year old storyteller shares his thoughts on that as well.
In an interview afterwards the Director explained "I think it's important that we honour our stalwarts and heroes while they are alive. They have done a lot and we should appreciate them."
As a local viewer there is also a sense of familiarity that you get while watching the film because Agitation's jokes are all based on a societal context that only the people living there can truly understand and appreciate. Indeed, the story could not have been told without archive details of Agitation's rich and original work which drove the movie and kept the viewer's attention.
Interestingly enough, some of the jokes, despite being over 20 years old still have relevance. It's as if they can never run stale. This holds true for the comedian as well, who used to perform with timeless style in a two button suit; much like what is being fashionably worn and advertised today. That said the movie puts you in the shoes of the central personality who tells his jokes on stage in a way that cannot be replicated. Also, judging by the numbers in attendance at his shows back then it's clear his style commanded the attention of the general public.
The movie might just be 20 minutes long, but it does not appear rushed. In fact, it's given life by the use of innovative camera angles and background music which help to tell the story. It's also well supported by interviews from relatives and neighbours of the comedian. All in all it was a good effort that is worthy of a pat on the back.