Amelia Thomas-Student, Ken Gordon School of Journalism and Communication Studies
This was the first time I watched a film and felt like I had to be high to understand what was happening. I would like to think that with such a short film, the creator would at least get us to understand what it was about. I got lost somewhere between the white body suits and rainbow Mohawks.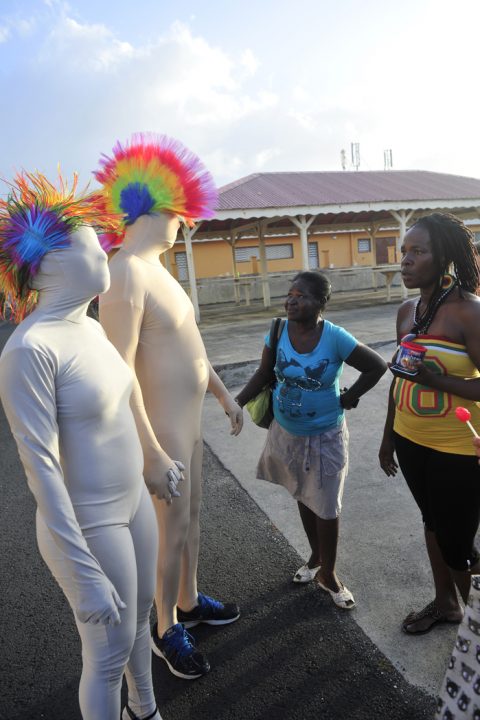 It was only until the end of the film that I came to a conclusion about what the film was about or what I thought it was about. Within the bar scene, the two that seemed to be the main characters wore white body suits and had rainbow coloured Mohawks. The one thing I remember about the rainbow Mohawks is the colour. The LGBT community is represented by a rainbow. However, the pair in the body suits were not two females neither two males. Instead it was a male and a female, perhaps symbolizing a heterosexual norm? So I scratched that idea.
However, I noticed that the pair were the only ones dressed that way. They were being treated with great hospitality from the persons surrounding them. With this in mind, I came to the realisation that they were being treated like tourists. When it comes to the Caribbean dynamic of hospitality and customer service, tourists almost always have the upper hand on locals.
It got me thinking, "What are we leaving for locals if we only give tourists the courteous treatment?" It was refreshing to see that these people who were so different from the people they were around were being treated with such courtesy. It was also a bit disappointing because I didn't see any other people at the bar being treated that way.
The scene was almost a display of the satellite and metropole relationship the Caribbean has with western territories. This sort of "beck and call" functionality that can make the people of the Caribbean think that everything foreign is better. This film was nothing like what I expected. I believe 'At the Stardust Café' was intended to appeal to an audience comprising of those who are very in touch with their "artsy" side. This film would not appeal to the average man as the concept of it is not one that would be easily understood.
Granted I had gotten the opportunity to talk with the director of the film, I would have had a better understanding as I would have heard it "straight from the horse's mouth.' I hope that whatever the creator tried to accomplish with this film, that they got it done. People usually dislike what they don't understand, which is why this film was not an enjoyable one for me.
Would I have watched this on the big screen? Definitely not. It isn't one I would recommend either. I honestly think this film was directed at a thin sliver of society, but was not suitable for the general audience.